Kevin Durant and the Oklahoma City Thunder came within minutes of emerging from a loaded Western Conference to reach the NBA Finals. And if this latest report is to be believed, it seems basketball's marquee free agent will have an even greater chance to win his first championship next season – whether with his longtime team or its chief competition for the conference crown.
According to ESPN's Marc Stein, the Golden State Warriors and San Antonio Spurs join the Thunder on the list of suitors who will have a meeting with Durant once free agency begins on July 1.
The Golden State Warriors, San Antonio Spurs and incumbent Oklahoma City Thunder are the first three known teams to secure face-to-face meetings with free agent-to-be Kevin Durant, starting next weekend, according to league sources.
Golden State and San Antonio are leaving no stone unturned, either. ESPN reports that Steph Curry and Klay Thompson will be among the Warriors' contingent pitching Durant, while Gregg Popovich and Tim Duncan will be front and center for the Spurs.
ESPN also notes that Golden State believes the chances of stealing the 2014 MVP from its formidable Conference Finals foe were "enhanced significantly" after Steve Kerr's team failed to win a second consecutive championship. Two weeks before the All-Star break, it was reported that the Warriors assumed frontrunner status among competing franchises in the Durant sweepstakes.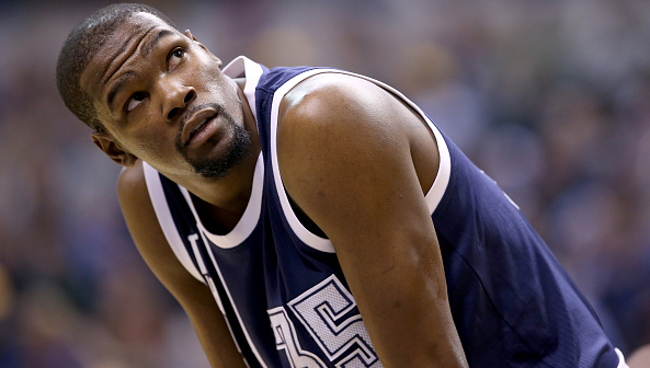 But the Thunder's toughest postseason opponents aren't the only teams who will be wining and dining the 27-year-old superstar. The Vertical's Adrian Wojnarowski reports that Durant's representation is also in the process of setting up sit downs with the Boston Celtics, Los Angeles Clippers, and Miami Heat.
The most likely outcome of Durant's free agency, according to The Vertical, remains that he will sign a two-year deal with Oklahoma City that contains a player option for 2017-18. Not only would doing so allow him the opportunity to take stock of the Thunder's reshuffled roster following the Serge Ibaka trade and reenter the unrestricted free agency fray with Russell Westbrook a year from now, but also further thicken his wallet. The cap is set to explode well upwards of $100 million following 2016-17, and Durant will become eligible for a higher maximum-salary slot because he'll have played at least 10 seasons in the league, too.
The hysteria officially begins on Friday, but be prepared for daily updates on every possibility concerning Durant's future in the interim. He's the most sought-after free agent since 2010, after all. This is going to be wild.
(ESPN, The Vertical)