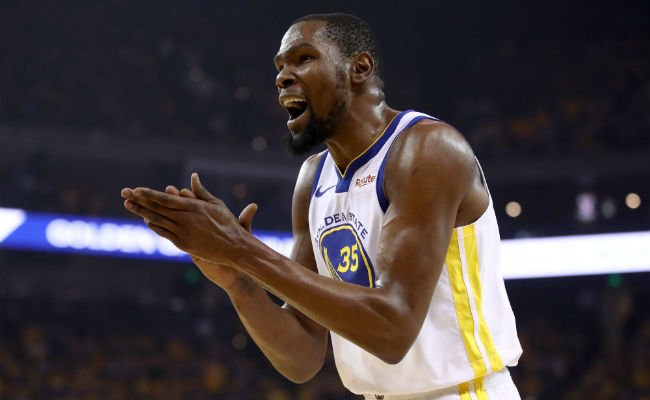 Kevin Durant, absent throughout the entirety of the NBA Finals to this point, will reportedly make his return for the Golden State Warriors in a crucial Game 5 in Toronto on Monday night. Durant's calf injury has frustrated and led to confusion among Warriors players, staff, and the media since he injured it against the Houston Rockets in the Western Conference Finals, but we now have an answer as to his status for Game 5.
Kerr revealed on Sunday that Durant would return to practice ahead of Game 5 and the superstar was listed as questionable on the injury report on Sunday night. Monday morning in Toronto brought word that Durant, perhaps predictably, would be a game-time decision. And that decision has been made: Durant will be in the lineup as the Warriors attempt to mount a comeback in Toronto.
On Monday afternoon, hours ahead of Game 5's first tip, word came down that Durant would play. According to NBC Sports Bay Area's Monte Poole, Durant is expected to be a "full go" on Monday night.
ESPN's Adrian Wojnarowksi later confirmed Poole's report that Durant was indeed planning on playing.
The stakes could not possibly be higher for Durant and Golden State — they need to win three games to become just the second team in NBA history to overcome a 3-1 deficit in the league's ultimate 7-game showdown. The only other time that happened was in 2016, against them, when LeBron James and the Cavaliers won in seven games.
The Warriors reportedly were always hoping Durant could come back for the later half of the series against the Raptors, and it appears that their initial timeline was more accurate than optimistic. Whether Durant can make enough impact in Game 5 to swing the series isn't known, but it seems certain that he will give it a try anyway on Monday night.