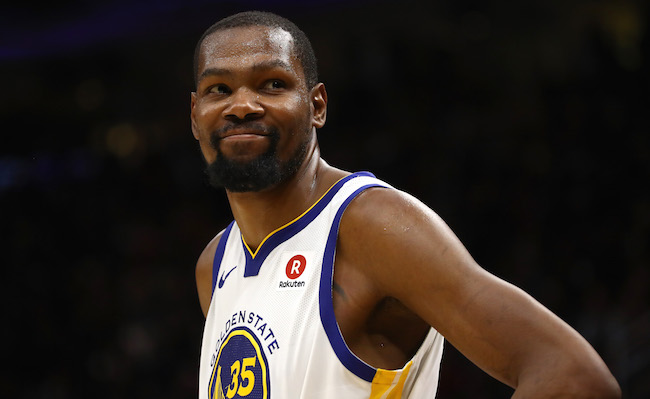 The Golden State Warriors all but locked up a second straight NBA Finals victory with a Game 3 comeback 110-102 win over the Cavaliers in Cleveland to take a 3-0 series lead.
After coming alive in Game 2 with an historic performance from three-point range, Steph Curry went ice cold in Game 3, going 1-of-10 from three-point range, but luckily for Golden State they happen to have another former MVP to lean on when one isn't playing well. Kevin Durant came out hot from the start and ended up with a new playoff career-high with 43 points along with 13 rebounds and seven assists.
Durant carried the load for the Warriors all game, keeping them in it when the Cavs were hitting everything early, and then icing the game late with a dagger three-pointer from way outside.

That three-pointer got many thinking about his dagger in Game 3 of the Finals last year, when he walked up to just about the same spot and drilled a three in LeBron James' face. Rob Perez had the same idea and put the videos next to each other, and while this year's wasn't in transition but at the end of the clock, they are eerily similar.
While the series result is all but assured, the most drama left to be sorted out is who will take home Finals MVP honors between Durant and Curry. Both have had one poor outing, one great game, and one good game. Game 4 may very well be the deciding factor in that race, where Curry is seeking his first Finals MVP award (the last individual award he hasn't achieved) and Durant is going for two in a row.