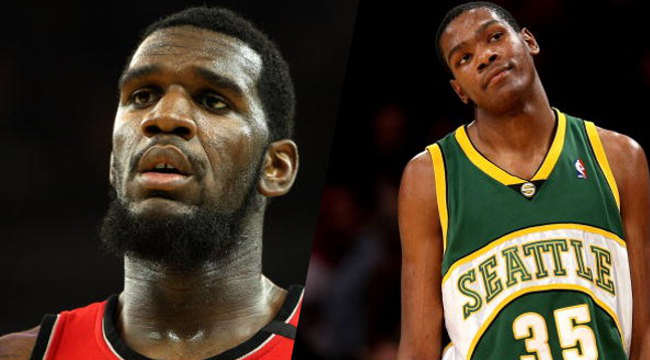 Last month, former No. 1 draft pick Greg Oden acknowledged that his playing days are probably over. He also acknowledged that he'll likely go down as the biggest draft bust in NBA history, especially considering the wildly-divergent careers of him and the man the Portland Trail Blazers infamously passed over to get him, Kevin Durant.
But the latter isn't buying into all that talk about Oden being a bust. In a recent interview with Chris Haynes of ESPN.com, Durant offered his rationale as to why we might need to re-evaluate our assessment of Oden and his career (or lack thereof):
"Nonsense. That's nonsense," Durant adamantly told ESPN on Sunday night. "In order for you to be a bust, you have to actually play and show people that you progressed as a player. He didn't get a chance to."
He has a point. Oden played in just 82 games over five seasons with the Blazers, never getting a chance to show his true potential as catastrophic knee injuries took their toll. Perhaps there should be a distinction drawn between legitimate busts, i.e. healthy players who simply never developed or reached their potential, and players like Oden whose health was ultimately out of his control.
Oden is currently a student assistant coach for his alma mater, the Ohio State Buckeyes, and has re-enrolled in school there to finish his degree. It's certainly possible that he'll find redemption off the court, but despite what Durant says, it's unlikely that the basketball history books will ever be kind to Oden.
(ESPN.com)