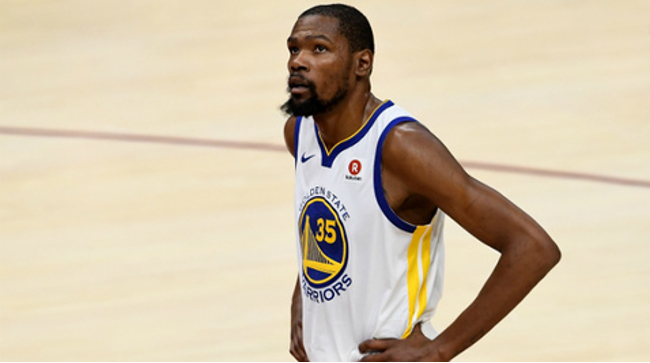 The Cavs gave the Warriors everything they could handle, but it ultimately wasn't enough as Golden State was able to get a 110-102 win in Game 3 to take a commanding 3-0 series lead behind a career playoff high from Kevin Durant, who finished with 43 points, 13 rebounds, and seven assists.
The Warriors did it despite one of the most brutal shooting performances of Steph Curry's career, as he shot just 3-of-16 from the field overall and was 1-of-10 from downtown after his historic outing in Game 2.
LeBron James led the way for Cleveland with a 33 points, 11 assists, 10 rebounds, two steals, and a pair of blocks, but his Cavs now face an insurmountable series deficit that no team in NBA history has ever recovered from. His nemesis Durant was absolutely unstoppable all game long, not only showing off the full offensive repertoire, but finding his teammates and crashing the boards and playing solid defense.
He also hit yet another dagger with under a minute remaining that was eerily reminiscent of the one he hit in last year's Finals.
https://twitter.com/NBA/status/1004565389676875778
The Warriors started the game 0-for-6 from downtown, while the Cavs raced out to a 12-point first quarter advantage and led by as many as 13 before the half. Golden State, however, came all the way back and made it a 58-52 margin heading into the break behind 24 first-half points from Durant.
The Cavs' role players were more aggressive early, with J.R. Smith scoring 10 points in the first half, and Kevin Love attacking the boards like he was back in Minnesota and going off for 15 first-half points on 3-of-5 from behind the arc. Rodney Hood got the minutes Ty Lue promised, and despite widespread mocking among the media, he made the most of them, putting up 15 points on 7-of-11 shooting and getting some well-deserved love from his peers around the league.
Despite the loss, LeBron also blessed us with this, i.e. a 2018 remix of the spectacular alley-oop he threw himself off the glass in last year's Finals.
https://twitter.com/Rachel__Nichols/status/1004539802274934789
And things got chippy early on as well, as Draymond Green and Tristan Thompson got hit with double technicals in the first quarter after jawing back and forth relentlessly, which gave Green his fifth technical of the playoffs, putting him just two away from a mandatory one-game suspension.
Andre Iguodala made his Finals debut after missing the last six games, but he was wincing as he headed to the locker room early before the half. However, he would return in the second half and eventually threw down a monster jam to help keep the game out of reach late in the fourth.
The Cavs made some key adjustments on Curry in terms of those dribble-hand-off plays that led to open looks in the corner in Game 2. As a result, he missed all nine of his three-point attempts until the 2:30 mark of the fourth, when he hit a key shot from downtown to put the Warriors up four.
Cleveland now faces elimination when Game 4 tips off back The Q on Friday at 9 p.m. ET on ABC.