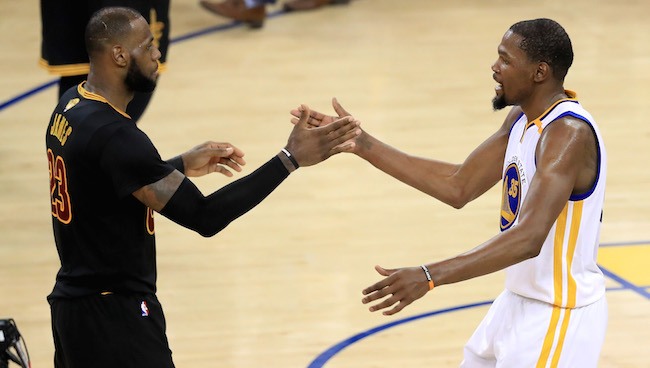 Kevin Durant hasn't been shy about letting his opinions be known this summer, whether he's slamming trolls on Twitter, explaining NBA players 'don't f*ck with' Trump, or explaining to rapper Lil' Dicky why the Cavaliers can't trade LeBron James this summer.
The Warriors' star seems to be in a place where he's extremely comfortable after winning a championship and he's going to talk about what he wants to talk about. So, when Bill Simmons came calling about doing a massive "AKA" podcast — Ask Kevin Anything — Durant was game.
Simmons broke the podcast into two parts, with Durant discussing how it took courage from Kyrie Irving to request a trade, as well as standing by his old tweet about drinking Scarlett Johansson's bath water in the first episode.
In the second episode, released late on Sunday night, Durant talked about the Paul George trade to Oklahoma City and how he was shocked as to how Indiana gave him away, and at the end of the podcast, they shifted to a discussion of LeBron James' future.
Durant explained that he feels like James is going to stay in Cleveland, and how he's even told LeBron that's what he thinks will happen. Simmons believes James is bound for the Lakers, and so the two made a bet for a Fat Sal's combo meal over James' 2018 free agency decision
Durant: I personally always said he was staying. I told him this. That's me. I feel like he's going to end it in Cleveland. That's his crib now. He run it and he gonna turn it into something mega when he's done. He's going to do something.

Simmons: What do you want to bet on this? I'm saying L.A.

Durant: I'll bet Fat Sal's.

Simmons: I'm in. I'm betting L.A.

Durant: You're staying on L.A.? Fat Sal's combo meal. He's staying in Cleveland. I've got him staying in Cleveland.

Simmons: I think the Lakers thing makes a lot of sense.
It's interesting that so far the two stars that have spoken publicly on their James free agency theories have both gone in a direction other than L.A. Durant thinks he'll choose to stay in Cleveland, while Blake Griffin said he thinks something is brewing with the Banana Boat crew somewhere other than L.A., possibly New York or Cleveland or elsewhere. Durant also noted that if the Cavs trade the Brooklyn 2018 pick this season, like he thinks they will, it signals that they have a good idea that James is staying.
The Lakers seem to be the media favorites for LeBron if he leaves, which makes sense. They'll have money to chase him, LeBron has a home in L.A., and, as much as anything, people on both sides have reason to float L.A. as a potential destination. For the Lakers, it gives fans hopes of getting back into title contention in the very near future, while the Lakers and Knicks have always been franchises that can be used as leverage by agents.