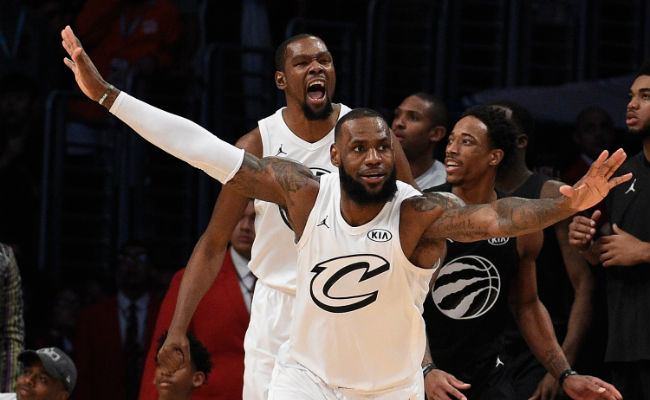 LeBron James is the best basketball player on earth and is in the conversation for the best basketball player to ever live. He has a proven track record of success on both an individual and a team level, and yet for some reason, it's been a struggle to convince superstar-caliber free agents to join his teams ever since his time ended as a member of the Miami Heat.
It hasn't been a majoe issue up to this point, but with the Los Angeles Lakers eyeing a number of big names in free agency next summer to pair next to James, it prompted Ric Bucher of Bleacher Report to explore why this has been the case. Perhaps the most poignant quotes came from Kevin Durant, the Golden State Warriors star who has been mentioned as a potential target for the Lakers in free agency should he decide to leave his current squad.
Durant broke down how being James' teammate could be tricky both on and off the court. He praises a player like Kyle Korver, whose "talents benefit more from a guy who can pass and penetrate and get him open," making him the perfect teammate next to James. For a superstar like a Kawhi Leonard, though, it's more tricky.

"If you're a younger player like a Kawhi, trying to pair him with LeBron James doesn't really make sense," Durant said." Kawhi enjoys having the ball in his hands, controlling the offense, dictating the tempo with his post-ups; it's how he plays the game. A lot of young players are developing that skill. They don't need another guy."
But of course, being on a team with James brings a unique set of off-court challenges that can be awfully hard on people. Specifically, Durant chastised the reverential way in which the media treats James.
"So much hype comes from being around LeBron from other people," Durant said. "He has so many fanboys in the media. Even the beat writers just fawn over him. I'm like, we're playing basketball here, and it's not even about basketball at certain points. So I get why anyone wouldn't want to be in that environment because it's toxic. Especially when the attention is bullshit attention, fluff. It's not LeBron's fault at all; it's just the fact you have so many groupies in the media that love to hang on every word. Just get out of the way and let us play basketball."
It's a take that isn't necessarily wrong — a whole lot of us enjoy watching LeBron James play basketball — but it's fascinating coming from Durant. Plus this seems like it could be an awfully prescient quote with everything surrounding his free agency, especially considering the possibility that he joins forces with James is theoretically possible.
Will it matter? Who knows! Free agency is seven months away and a countless number of things could impact Durant's decision making should that come up. But in the event he decides to spurn the Lakers, avoiding the media circus that follows James and his desire to not be second fiddle to him are two sensible explanations.
(Via Bleacher Report)