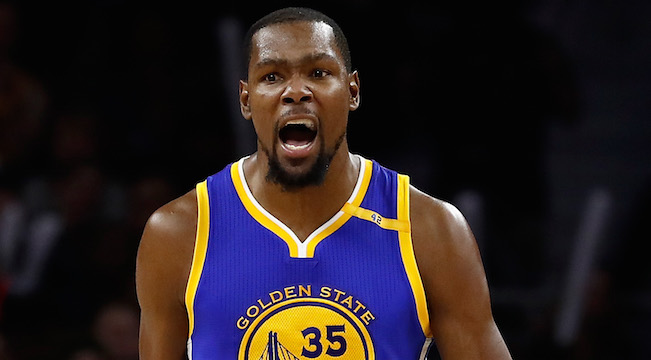 Kevin Durant joined the Golden State Warriors to win an NBA title. But there's talk he'll work out a contract that will keep he and some other valuable assets in Golden State long after that.
Reports published just hours before the start of the NBA Finals tipped off indicated that Durant would take less than a max contract to remain in Golden State and play for the Warriors after this season. All of this comes down to the "supermax" math that was created with the latest collective bargaining agreement.
Basically, under certain circumstances a team can sign a veteran player to a supermax contract for five years—a deal that starts at 35 percent of a team's total salary cap. That's a big deal for any player, given that the cap is expected to be $101 million next season.
With Stephen Curry expected to sign a supermax deal, that doesn't leave a lot of room for other Warriors players to fit their potential contracts under the cap. But as ESPN reports, that could all change if Durant decides to take less than max money in his potential contract extension. If Durant doesn't ask for a max deal, players like Andre Iguodala and Shaun Livingston could stick around Oakland.
In order to sign Durant to the maximum possible extension this offseason, starting at an estimated $35.4 million per year, the Warriors would have to renounce their rights to Iguodala and Livingston to create room under the salary cap. The most they can pay Durant in 2017-18 without creating cap space is 120 percent of his 2016-17 salary, a little less than $32 million.

Curry, long one of the league's most underpaid stars at about $11 million per year, could then sign a new contract starting at $35.4 million a season and worth approximately $205 million over the next five years.
In other words, Durant seems willing to let Curry get his money, and take the discount Curry has given Golden State for a few years in order to keep the three-time NBA Finalists together a few more years. Then, if he signs the right deals, he could get a supermax contract later in his career.
Durant could sign a so-called "non-Bird" extension for up to four years, but a more likely scenario would have him sign another two-year deal, with a player option on the second year (similar to what LeBron James did in Cleveland for several years). Durant would then be eligible for another one-plus-one deal next year starting at an estimated $35.7 million and a five-year, supermax contract of approximately $217 starting in 2019-20.
The savings for the Warriors would amount to about $4 million, but more importantly, it would allow Golden State to use their Bird rights on another pending free agent. All of these moves would be about keeping "the core" intact for Golden State, as the team's success has made it more likely its free agents see more interest from other teams. ESPN reported that Iguodala in particular will see interest from Phoenix, Minnesota and Atlanta if he hits free agency.
Signing Durant to a smaller two-year deal would be about more than winning an NBA title this year or the next, but about working to build a Warriors dynasty for the long haul.