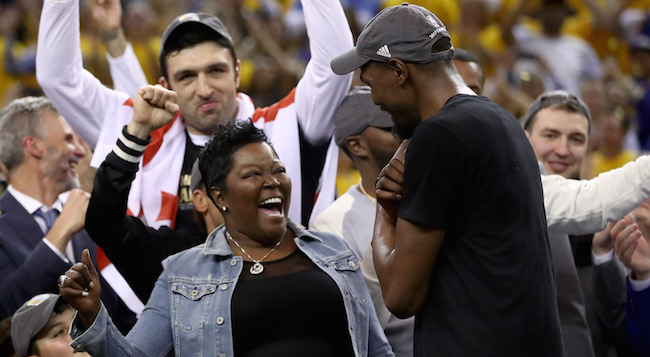 Kevin Durant got the monkey off of his back on Monday night in Oakland, earning his first NBA championship and winning the Finals MVP award in the process. Durant has 39 points to lead the Warriors in their series clinching win in Game 5, and never scored fewer than 31 points in any of the five games of the Finals.
Durant was clearly emotional after winning his first title, thus validating his highly controversial decision to leave Oklahoma City for Golden State. That move was motivated entirely by getting championships and in his first season he succeeded. After the final buzzer sounded, Durant celebrated with his teammates and got an embrace from LeBron James in a tremendous show of respect.

However, there was one person in particular that Durant needed to share the moment with, his mother Wanda. The woman that Durant had dedicated his MVP speech to years ago was there again to witness his crowning achievement and the two celebrated together on the court in a fantastic moment.
Wanda Durant wasn't done, though, as she showered him with praise during his on-court interview with ESPN's Doris Burke amidst all the chaos. Burke, noticing the moment, allowed Wanda to let her son know just how proud she was of him for getting to this point.
"It doesn't matter what nobody say," Wanda Durant said. "Look at me! You did it. I'm proud of you."
It was a touching moment, even if KD seemed ready to just get through with his interview, and Wanda Durant has been incredibly vocal in her support of her son's decision to go to Golden State and has been upset with the backlash towards him. In this moment, she just wanted to make sure he knew that none of that mattered and that he had accomplished his goal and that his mother was proud of him.