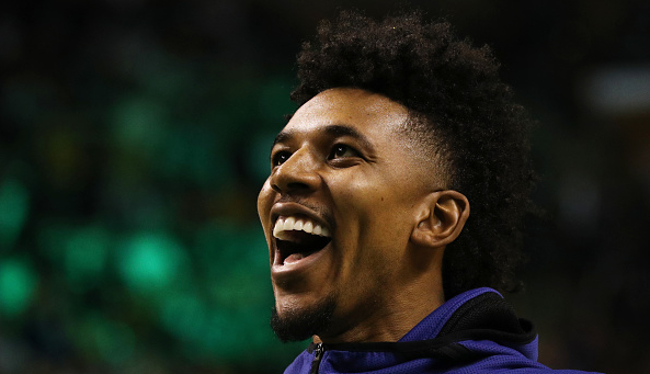 On Wednesday night, the Golden State Warriors will face the Los Angeles Lakers in the two teams' opening salvo for the season, and it'll mark the first time Steph Curry squares off against rookie Lonzo Ball, whose overly-loquacious father has claimed repeatedly is a better player than the two-time MVP.
But a vastly-underrated part of this narrative is Nick Young's first return to L.A. to face his former team since signing with the Warriors last summer. Though any lingering animus he might have harbored toward to the Lakers likely left town when D'Angelo Russell was traded to the Nets and Byron Scott was relieved of his coaching duties, it feels appropriate that Swaggy might use any excuse to have a big game.
That's what Kevin Durant thinks, at least.

"You don't have to try to get Nick going," Durant said. "He's gonna try himself…so hopefully he has a great game against his former team. You know they're gonna be coming at him talking a little trash, so it should be fun. Check for it tonight. Keep your antennas up. It'll probably be a Nick Young 20-field-goal-attempt night."
Young is averaging a paltry 13 minutes per game so far this season, but Steve Kerr proved that he's all about revenge games recently when he put Jordan Bell in the starting lineup against the Bulls, who traded his rights on draft day to Golden State for cash considerations.
We can only hope that Swaggy will live up to his self-described role as the Splash Brother's delinquent older sibling and bless us with a scoring outburst for the ages.