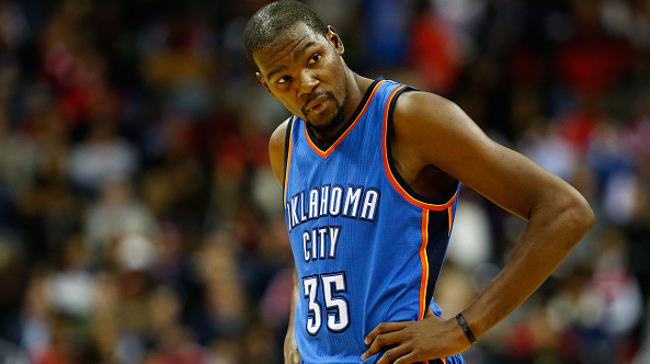 There's good news coming out of Oklahoma City on Monday. According to a report, Kevin Durant is expected to return to the court for the Thunder later this week after having missed the last six games with a hamstring injury. Here's more from Marc Stein of ESPN.com:
Sources told ESPN.com that Durant, after missing the past six games with a strained left hamstring, is closing in on a return, though the specific game has not yet been chosen.

Durant was not cleared to play in Sunday night's home win over Dallas, but it's believed that either Monday night's visit to Utah or Wednesday's home game against Brooklyn is a strong possibility for his return.
Durant first tweaked his hamstring during a highly-anticipated game against his hometown Washington Wizards on November 10, the team some believe are the frontrunners to land Durant in free agency next summer if he decides not to re-sign with the Thunder.
OKC is 3-3 during that stretch, thanks to Russell Westbrook's stellar play, and have been able to maintain their hold on the No. 4 spot in the Western Conference standings. But they'll need a fully-rehabilitated Durant if they want to make a real run at a championship this season. Depending on who you believe, his future with the franchise just might depend on it.
(Via ESPN.com)