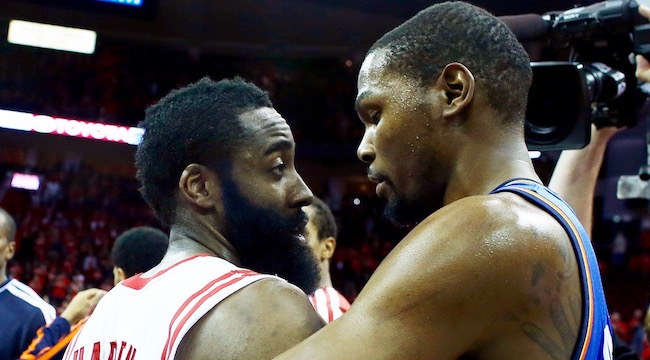 The Houston Rockets dream big. Under guidance of controversial general manager Daryl Morey, Houston is the most innovative and unabashedly aggressive franchise in the NBA. And as basketball's biggest free agent in more than half a decade hits the open market next summer, expect Morey and company to have a seat at his table – if nothing else.
According to Brian T. Smith of the Houston Chronicle, the Rockets have ambitions of luring Kevin Durant back to Texas when he becomes an unrestricted free agent in July.
Durant to Houston is already at the top of the dream board.

The Rockets want him, but of course they can't say it. But you know they will do everything they reasonably can to land the six-time All-Star, 2013-14 MVP and former Longhorns great. And as with the shocking Harden trade and the Howard signing, they shouldn't be counted out until Durant decides whether he's staying in Oklahoma City or leaving for a bigger, grander stage.
This isn't surprising. Houston has secured meetings with every marquee free agent since making the franchise-altering trade for James Harden in October 2012, and haven't let salary cap complications or the feelings of incumbent players stand in its way.
The Rockets lost Chandler Parsons to the Dallas Mavericks as they awaited a decision from Chris Bosh in July 2014. They courted Carmelo Anthony the same summer by hanging a banner from the Toyota Center's exterior showing him in Houston red – and donning Jeremy Lin's jersey number. And two years before that, Morey ruffled feathers league-wide by stealing Lin and Omer Asik from their respective clubs with so-called "poison pill" contracts, a new strategy that's become increasingly popular ever since.
Don't be fooled by the Rockets facing free agency decisions on Dwight Howard, Terrence Jones, Donatas Motiejunas, and Ty Lawson. All they do is afford Morey the necessary wiggle room to chase Durant with contingent cap space other wide-eyed competitors – like the Golden State Warriors and Miami Heat – almost surely won't have.

For Houston to acquire the 2014 MVP and maintain a championship-level roster, Morey will need cooperation from Howard first and foremost. Think of Kawhi Leonard waiting to sign his maximum contract with the San Antonio Spurs until after the black and silver had inked LaMarcus Aldridge, or even the compromising nature of Bradley Beal's fruitless extension talks with the Washington Wizards. Bird Rights allow expensive teams with summer decisions to add another superstar, and the Rockets plan to use them when it comes Durant.
Howard, basically, must hold off on signing with Houston until the Oklahoma City Thunder superstar puts pen to paper – whether with the Rockets or a different team. If the eight-time All-Star big man insists on re-upping immediately and Durant is still being wined and dined across the league, Houston won't have enough space below the cap to sign the latter to a max-level deal. Super-teams hinge on collaboration and sacrifice from the potential players who comprise them, and the extent of Howard's will decide just how close Morey's longtime fantasy of a new Big Three is to becoming a reality.
But Durant's wishes are ultimately what will decide his future. And though the prospect of teaming with a perennial MVP candidate and elite big man in a state he knows well is surely enticing, there have been no whispers of the 27-year-old's interest in the Rockets. The Thunder should still be considered heavy favorites in the Durant sweepstakes, while his hometown Washington Wizards lead a pack of hungry, hopeful contenders.
All this news does, then, is confirm what's been fair to assume based on every offseason over the past few years: that Houston will try its damndest to win it.
(Via Houston Chronicle)