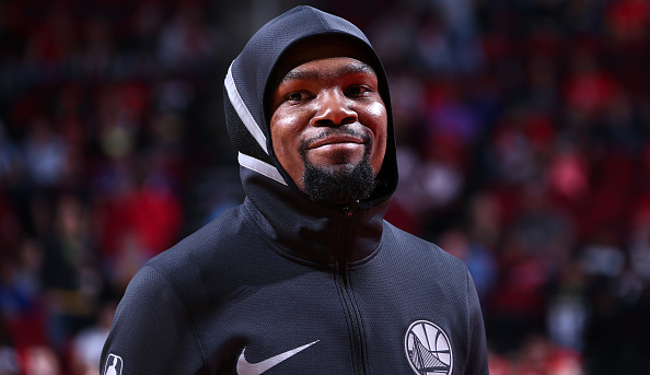 The Houston Rockets have every right to feel confident lately. They got a solid win over the Golden State Warriors – their second this season against the reigning champs – on Saturday night in a primetime showdown, and the victory improved their record to a flawless 17-0 when Chris Paul, James Harden, and Clint Capela share the court.
But some guys in Houston's locker room haven't been able to resist the urge to blow things entirely out of proportion. First, there was P.J. Tucker's less-than-sober assessment that the Rockets have the "perfect team" to match up against the Warriors. Clint Capela then followed that up on Monday by claiming that Houston is simply a better team all around.
Kevin Durant, naturally, didn't take too kindly to those comments and had some pretty harsh words for Capela when speaking to reporters on Monday afternoon.
"You hear that from guys like Capela," Durant said. "Usually, he's catching the ball and laying it up from CP [Chris Paul] or James Harden. His job is not as hard. When your job is that hard, you know you can't just come out there and say sh*t like that. I don't expect that from CP and James and [Trevor] Ariza and the rest of the guys like that because they know how hard it is to come out and do that every night. Capela, catch and dunk, every night. It's pretty easy for him."
Prior to Capela's boasting, Durant did, in fact, heap praise on the Rockets and even Capela himself for how much they've improved this season, but he rarely misses a chance to go sleight for sleight with anyone who dares challenge him.