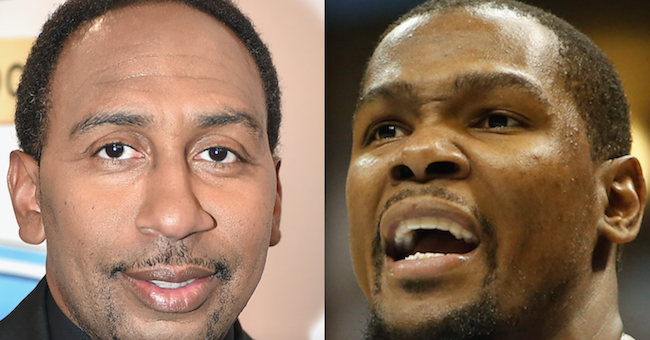 Kevin Durant recently said he'd "love" to have his jersey retired by the Oklahoma City Thunder. He hails from the nation's capital, and has made no secret of his thoughts on LeBron James returning home to the Cleveland Cavaliers. Essentially, all conventional wisdom suggests that the 2014 MVP's free agency choice next summer will come down to the Thunder and Washington Wizards.
On Wednesday's edition of ESPN's First Take, though, Stephen A. Smith said that another team has not only emerged as a potential destination for Durant, but his "primary target" in free agency.
"I have heard if [Durant] is not willing to go back to Oklahoma City that L.A. will be his primary target."
Smith also said the Wizards, New York Knicks, and Miami Heat will do their best to lure basketball's preeminent scorer from Oklahoma City. Based on this intel, however, the efforts of Washington, New York, and Miami will surely prove futile; according to Smith, it's Southern California or bust for Durant.
It also bears mentioning that the veteran journalist prefaced his comments by saying, "You can't rule out anything because you just never know."
True. What's also true is that until next July finally arrives, it's prudent to take every report of Durant leaning one direction or another with various degrees of skepticism – no matter the source of the rumor.
[Via ESPN First Take]