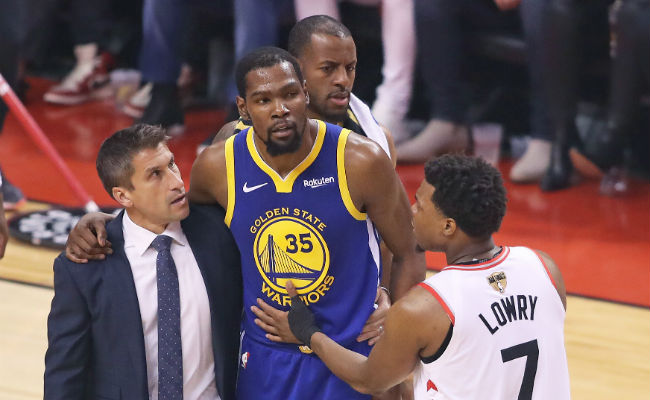 The news everyone feared from the minute Kevin Durant went down in Game 5 of the NBA Finals has come to fruition: Durant has indeed torn his Achilles tendon, and he already had surgery to begin the process of recovery.
Durant confirmed the news on his personal Instagram account just minutes after Steve Kerr told the media in Oakland that the team didn't have an update on his status.
https://www.instagram.com/p/Byn0c6NjoQq/?igshid=18txnsy7de3c5

"I did rupture my Achilles. Surgery was today and it was a success," Durant wrote in the caption. "My road back starts now!"
Warriors GM Bob Myers acknowledged postgame Monday that the team believed Durant had suffered an Achilles injury but couldn't comment on the severity. Durant went to New York Monday to consult with medical professionals, but during media availability earlier today, Golden State head coach Steve Kerr said that the team didn't have any new information about Durant's injury.
The expected recovery time for coming back from a ruptured Achilles tendon is 9 to 12 months, which would essentially rule out Durant for the entirety of next year's regular season, although he could potentially return for the playoffs. Durant has a player option on his existing contract with the Warriors for $31.5 million that he is widely expected to opt out of. He can sign a new contract either with Golden State or another team starting at $38.2 million, and multiple teams are projected to be willing to offer him a deal at that number, despite him suffering this injury in Game 5.