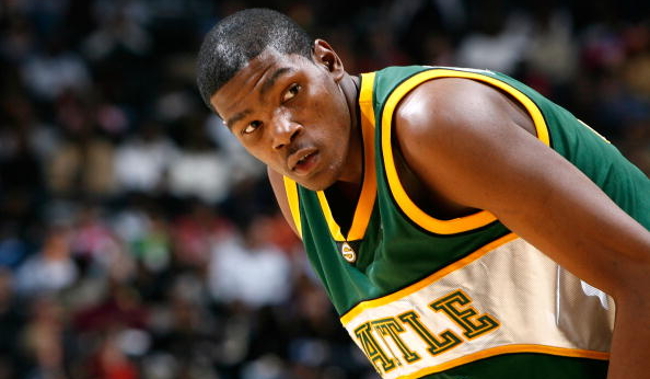 If only for one glorious night, the NBA returned to Seattle on Friday for a preseason game between the Golden State Warriors and the Sacramento Kings.
It marked the first time Kevin Durant has taken the court at Key Arena in the 10 years since he and the Sonics relocated to Oklahoma City where they were re-branded as the Thunder. Durant played his rookie season in Seattle before the move to OKC.
Even though it was just a preseason game, fans came out in droves, along with scores of Seattle luminaries like Gary Payton, Spencer Hawes, and several members of the Seattle Storm, to celebrate the return of pro basketball to a city that is hungry for an NBA return. Durant came out before tip-off to sign autographs and hang out with fans and later took the court sporting a vintage Shawn Kemp jersey to address the raucous crowd.
Even Warriors coach Steve Kerr got in on the fun when he showed up to his pre-game presser wearing some retro Sonics gear.
In addition to the Reign Man throwback, Durant rocked a pair of special Sonics colorways of his Nike KD11s for the game against the Kings.
Durant also took the opportunity to shout out the Seattle Storm, who won the WNBA title last month. Former Sonic Ray Allen, along with other NBA greats like Dwyane Wade, have expressed interest in coming together to bring a franchise back to Seattle in the near future.
KeyArena is set to undergo a massive renovation project in hopes of luring both an NHL team and an NBA franchise to town. But for now, they'll have to be content with watching their former franchise star on the team where he eventually became a two-time champion.