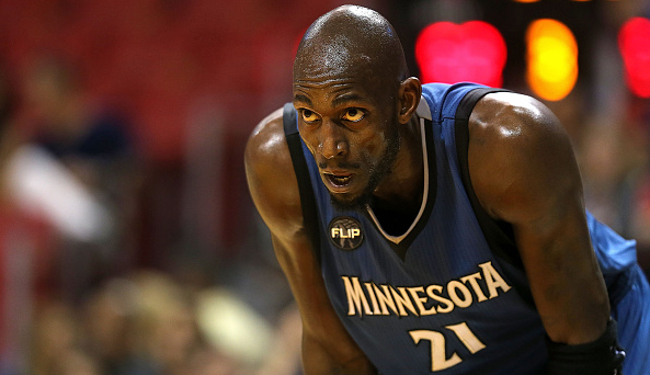 For Anthony Davis, free agency is still more than a year and half away. But that hasn't stopped the rampant speculation about where he might end up. The smart money is on him joining LeBron and the Lakers.
LeBron, for his part, has made no secret about the fact that he'd love to play alongside Davis, to the point that some GMs around the league, and even Pelicans coach Alvin Gentry, have accused him of tampering.
LeBron had a bluntly unapologetic response to those accusations, while Davis has been more diplomatic about the whole thing, telling fans that he loves New Orleans, while remaining noncommittal about his future there. Everyone has an opinion on the matter, and over the weekend, future Hall of Famer Kevin Garnett chimed in with his thoughts.
Garnett told Davis in no uncertain terms that he's been with the Pelicans long enough and that it's time for a change, via Martin Rogers of USA Today:
"When Anthony Davis suits up for the Pelicans, that's the best the Pelicans are going to be right there," Garnett said. "They are capped out. They are playing at the top of the level they can play at. Davis with LeBron James — he goes to another level and that's scary.

"That's why he needs to go to a team where he has a chance to hoist the trophy or at least have a chance at going in that direction. He doesn't have that. Great players need to be with other great players. He is still 'the guy' when LeBron is there. They are both 'the guy.' That's why you bring your superpowers together."
Garnett, of course, is speaking from experience. The Big Ticket squandered a portion of his prime toiling away with a Minnesota Timberwolves team that only briefly approached championship contention. All of that changed when he joined Paul Pierce and Ray Allen in Boston where he would win his first and only championship.
Yet it would also be a devastating blow to the Pelicans organization, one they may never recover from, especially with a renewed interest in bringing the NBA back to Seattle or expanding to Las Vegas. They may not get another chance at landing a player of his caliber.
Still, a lot can happen between now and then. New Orleans has been actively searching for another star to put alongside Davis in the hopes that they can convince him to stick around. The Lakers, meanwhile, may not want to wait around that long and instead set their sights on other targets. Regardless, Garnett's words certainly carry more weight than others.