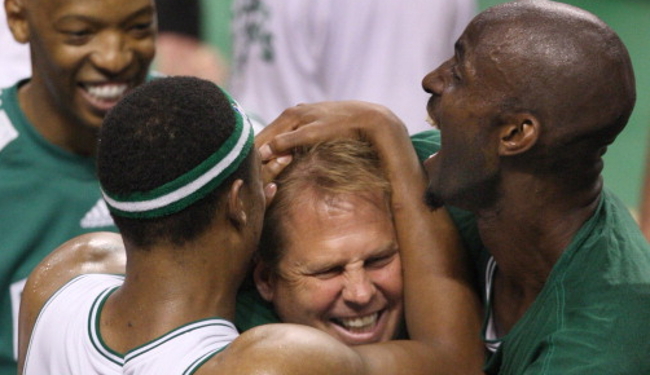 During his playing days, Kevin Garnett's ultra-competitive myopia could sometimes grate on, well, just about everyone around him. But viewed through a different lens, it was simply a byproduct of his all-encompassing love for the game. KG is a basketball purist and a die-hard fan, through and through.
That's a big part of what makes his Area 21 segment on TNT so endlessly entertaining, and Garnett and company were in peak form on Thursday night watching his former Celtics stage an improbable comeback win against the Rockets after overcoming a 26-point deficit.
Here's some candid footage of the Area 21 crew going absolutely bonkers in the waning moments of the game, which included Marcus Smart drawing a costly offensive foul on James Harden, followed by what ended up being the game-winning hook shot from Al Horford.
It's lovely to see Garnett getting so hype for his team, and it even elicited a bit of nostalgia from Danny Ainge, who took to Twitter to reminisce about the good old days with the Celtics' Big 3.
For Ainge, it was probably a nice distraction from the ongoing war or words with Isaiah Thomas, whose recent criticism of the Celtics' training staff Ainge didn't take kindly to.
In any case, we'll just have to keep living vicariously through Area 21 in terms of imagining just how fun it would be to watch basketball with Kevin Garnett.