There's a lot that needs to happen over the next few months to get there, but right now the most likely NBA Finals matchup we'll see in 2018 is a rematch between the Golden State Warriors and the Cleveland Cavaliers. We've gotten this each of the last three years. Barring something crazy happening, like a major injury and/or an unexpected member of one of the team's cores demanding a trade, we're probably getting this again.
Is this good for the league? Who knows. But what we do know is that if both teams head into the Finals as currently constructed, Golden State will be the overwhelming favorite to win again.
This leads to a question that Cleveland has to answer before we get to the trade deadline last year: What moves can they make so that they don't lose this year? It's a hard question to answer, especially considering that the only team that has more money tied up heading into next year as of right now than the Cavs is the Portland Trail Blazers.
This kind of takes free agency off of the table for Cleveland, barring something like Dwyane Wade signing for the veteran's minimum happening. It also means that a trade would be the most likely way for the team to get some new blood on the roster. LeBron James isn't going anywhere, nor is Kyrie Irving. Of course, this means the odd man out in a scenario where the Cavs want to bring in a different superstar is Kevin Love.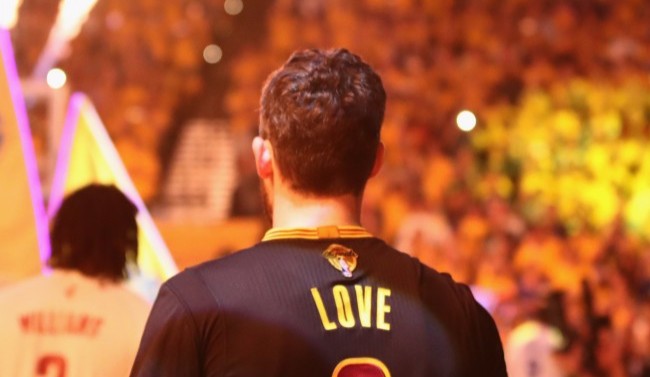 None of this is to say that Love is going anywhere this offseason. You can make a very convincing case that Cleveland's path to another ring is to keep its core intact and invest whatever money it can into its bench. The Cavs' starting five outscored Golden State's starters in three of the five Finals games, so there is an argument to be made that bolstering its bench so that it can function with LeBron out of games is far more important than shaking up the starting five.
But let's say Cleveland decides to go with the massive overhaul approach, Love is the guy who makes the most sense to move. He's on a fairly palatable contract, as Love is signed for another three years at an average salary of just over $24 million a year. He's also proven he can be the superstar on a team in the past (albeit the results for those Timberwolves teams that featured Love were, um, not great) and won't hit free agency until he turns 31.
Of course, all of this is easy to say in a hypothetical situation. Practically, doing something is really, really tough. Not only is Love a crucial member of Cleveland's core whose ability to shoot and rebound makes life easier on LeBron and Irving, but with how his defense has improved over the last year or so, he's rounded out his game in a way that makes him a better all-around player than he's been at any point in his career.
Plus there's the question of what team wants to acquire Love, and could any package thrown together for Love help Cleveland in its pursuit of a championship. Hypothetical deals for, say, Carmelo Anthony or Paul George sound nice in theory, and both could certainly score while LeBron and Kyrie get breathers every now and then, but how attainable are they?


Is it worth moving Love for George if the rumors of George eyeing a move to the Lakers are true? Hell, would Indiana even want to make that move when they could hypothetically get a better return than a soon-to-be 29-year-old power forward? Would Anthony really waive his no-trade clause to head to Cleveland, and if so, how much better are the Cavaliers if they replace Love with Anthony?
You could argue for Cleveland making a deal to acquire some young assets in exchange for Love. A hypothetical I just threw together that I think would be fun is Love heading to the Lakers for some combination of D'Angelo Russell, Brandon Ingram, and the No. 2 pick, along with some other assorted players to make it work financially.
But while that's fun, any deal for young assets comes with the risk of the Cavaliers needing some time to develop them. It then would require the team to hope that they turn into impact players, which is a risk that Cleveland decided it didn't want to take when it acquired Love for Andrew Wiggins.
Even further, doing something like this may require some amount of time that the Cavs just don't have. It could take a few weeks/months for young players to get assimilated, sure. But what if a younger player still needs to round out their game and won't get to that point in their first year? There goes a shot at a title in year one.
What if from there, they never figure it out? There goes title shots for the next two or three years, at which point LeBron is 35 and potentially among the top-5 players in NBA history in regular season minutes played, if he's even still with the team by that point.


Playing this "what if?" game and having it be the only factor that weighs into any kind of decision can be dangerous. But for Cleveland, which knows what it is right now, it needs to consider all possible outcomes and be overly cautious in any kind of transaction that involves moving Love. You do not break up the core of a team that has made three straight Finals unless you can absolutely get better by moving one member of said core.
We know what the Cavaliers are right now. We know what their strengths and weaknesses are and how basically everyone helps/hurts the team. As Cleveland enters a massively important offseason, Love is the most likely member of the team's core who can be shipped elsewhere to try and fix some of those weaknesses in an attempt to beat Golden State.
Whether the Cavs do anything – or, more importantly, whether moving an All-Star in Love would be smart – remains to be seen, but no matter what happens, Love is the team's player to watch all the way up through next year's Finals. If he makes it there, of course.