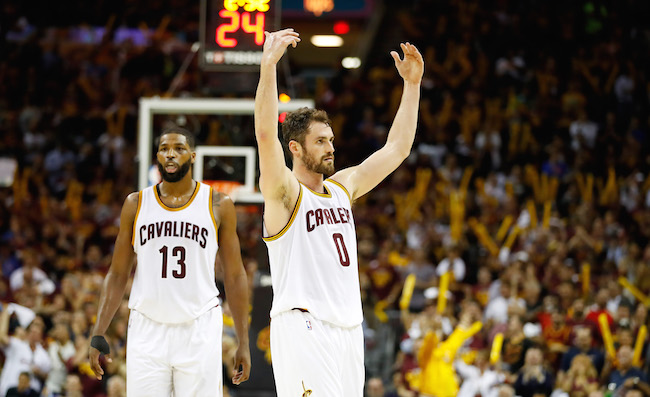 After doing very little in July, the Cavaliers have had quite the eventful late summer after trading Kyrie Irving to the Celtics and picking up Dwyane Wade after his buyout from the Bulls. In doing so, Cleveland shuffled around its roster and created some interesting lineup possibilities for coach Tyronn Lue going into the season.
Adding Jae Crowder and Dwyane Wade makes for some very interesting decisions on the wing and at the two-spot with how he'll want to stagger defensive stalwarts and offensive spacing. The Cavs now have J.R. Smith, Dwyane Wade, Kyle Korver, Jae Crowder, Jeff Green and Richard Jefferson in a crowded wing rotation. Making the right combinations with LeBron James and the frontcourt duo of Kevin Love and Tristan Thompson now becomes Lue's top task.
With regards to Love and Thompson, after completing training camp the Cavs' coach is considering moving forward with Love as his starting center and Thompson in a reserve role, per ESPN's Dave McMenamin.
Lue spoke with reporters on Saturday about why he's considering going small with the starting unit, and Love noted that he had spent "quite a bit of time" running with the first unit at the five spot.
"Spacing opportunities, spacing the floor," Lue said when asked what he likes about Love playing center. "Being able to play through the elbows with multiple guys."
Aside from Korver and Smith, the Cavaliers don't have much in the way of shooting on the perimeter, so it makes sense for Lue to look to add more spacing with Love at the five spot to open driving lanes for a starting unit that will include at least one of the Derrick Rose-Dwyane Wade combo, if not both, and feature James and possibly Crowder for maximum defensive versatility on the wing. Crowder, to his credit, became a 39.8 percent shooter from deep a year ago, but in a potential Rose-Wade-James-Crowder-Love starting five, the best shooter is Love by far, and your both of your guards are far superior drivers than shooters.
And thus, it makes sense to try and spread the floor with Love and clear driving lanes for Rose and Wade to make them their most effective. That would also put Thompson in the game more often with lineups including Korver and J.R. Smith, which gives them more defensive coverage behind those two and is a better spacial fit on offense.
The Cavaliers will be fascinating to watch this season if for nothing else than seeing how Lue handles this roster until Isaiah Thomas is able to return from injury. There are lots of options and lineup combinations that he can go with, and it will be a matter of him pressing the right buttons at the right times and being flexible with making changes as we learn who works best together.