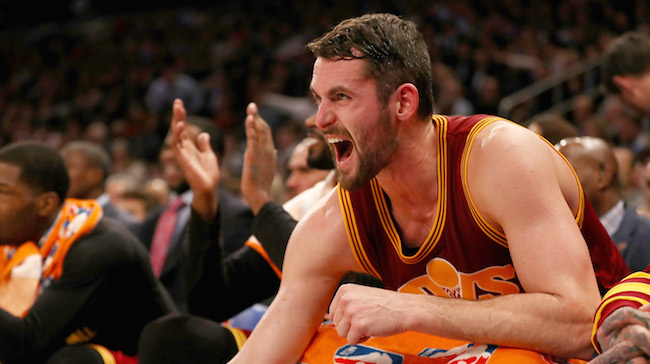 Kevin Love has been out since mid-February after having surgery to remove a "loose body" from his left knee, but the star power forward's return is imminent and he seems pretty excited about it.
The six week timetable given out for Love's injury on Feb. 14 is rapidly approaching, and Love teased his return with a picture of his uniform hanging in his locker ahead of Cleveland's Tuesday night matchup with the Pistons.
Love won't be playing against Detroit, but his return is expected to be next week, according to general manager David Griffin.

Projecting Love's return date is a bit tricky, as the Cavs embark on a six-day, four-game road trip on Saturday, beginning with the L.A. back-to-back against the Clippers and Lakers, followed by trips to Denver and Charlotte before returning home on Saturday to play the Wizards. That Washington game, based on Griffin's timetable, would seem to be like the logical return date for Love, being the second game of a back-to-back against a team they could face in the conference finals.
Whenever he gets back in the lineup it will be great news for a Cavs team that, despite the additions of Deron Williams, Derrick Williams and most recently Larry Sanders, has been missing having all of its primary options available, losing four of the last five games. Cleveland seems to be getting its roster all together at the right time, with Love returning, Sanders joining the squad and J.R. Smith being back in the rotation for the stretch run prior to the playoffs starting.