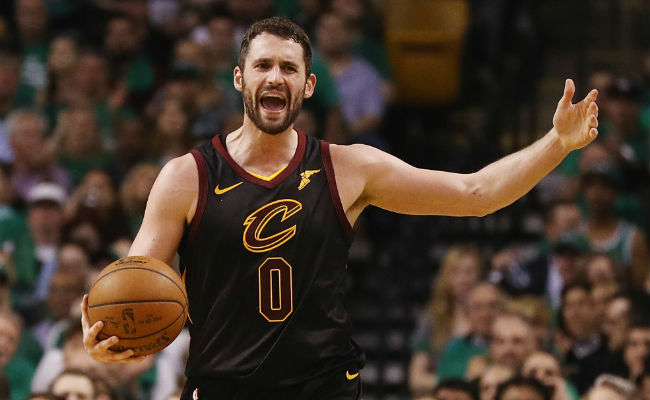 Kevin Love has missed the Cleveland Cavaliers last two games with a foot injury. The Cavs star was re-signed over the summer to keep him in Cleveland long-term as the team re-tools following LeBron James' departure from the team. However, after an 0-6 start, the Cavs could be changing course away from winning games to a rebuild.
The first step of that was firing coach Tyronn Lue on Sunday, handing the keys to Larry Drew on an interim basis. A second step in leaning into a full on rebuild mod would be shutting down Love for an extended period of time.
According to Marc Stein of The New York Times, the Cavs still do not have a timetable for when Love could return, but they're exploring the idea of giving him an extended period of rest. Doing so would almost guarantee the beginning of a rebuild considering he's their best player.
https://twitter.com/TheSteinLine/status/1056621154067202049
One of the potential reasonings for firing Lue was over differences between he and the front office over their vision for the team this year. Lue wanted to play veterans while the front office group wanted to spend time developing the younger players on their roster. By firing Lue, and potentially shutting down Love, the Cavs are taking steps towards losing basketball games. Those losses would be in the name of a long-term goal, but it certainly looks like a tank job.
This has to be really disappointing for Love. There's no way when he re-signed with the Cavs it was with plans of being the face of a rebuilding franchise. He wants to win, but now Cleveland is looking at shutting him down and fired his coach. His future with the Cavs seems doubtful and now he could be a potential trade target in the coming months. Don't be surprised if the Cavs start a fire sale this season.