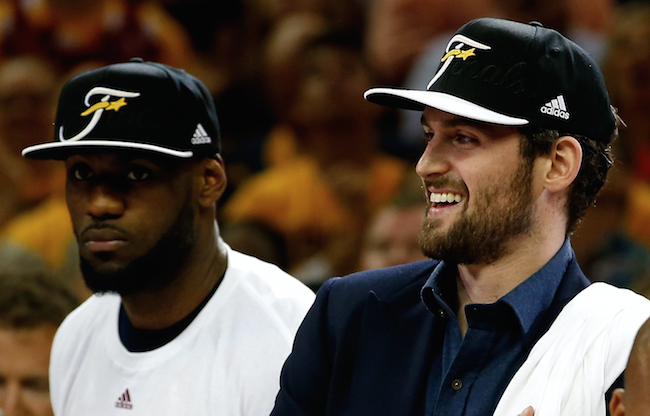 As the Cleveland Cavaliers romped through the Chicago Bulls and Atlanta Hawks to win the Eastern Conference, an injured Kevin Love was mostly absent. What many league analysts took as apathy for his team's run to the NBA Finals, though, were actually doctor's orders. Despite so much other speculation serving as means for his relative disappearance, Love was only cleared to travel by medical personnel five days ago.
And in his first meeting with the media since undergoing a procedure to repair his dislocated left shoulder, the three-time All-Star and potential free agent affirmed a long-term commitment to the Cavaliers.
Love has a $16.7 million player option for 2015-2016. Though he stands to cash-in by exercising it and entering the free agency fray next summer accompanied by a massive spike in the salary cap, it's long been assumed the 26-year-old would opt-out of the final season of his current contract.
Last week, Yahoo Sports' Adrian Wojnarowski said he believes Love will choose to become a free agent at season's end and "look around" at teams like the Boston Celtics and rumored favorite Los Angeles Lakers. Ever since being traded to Cleveland, though, Love has consistently stressed he's planning a future in Northeast Ohio.
Only time will tell if those plans ultimately come to fruition. Anything can happen in free agency. Nevertheless, it's still telling that Love – who a sizable and vocal group have always expected to spurn the Cavaliers – publicly stated his current desire to play with LeBron James and company next season.