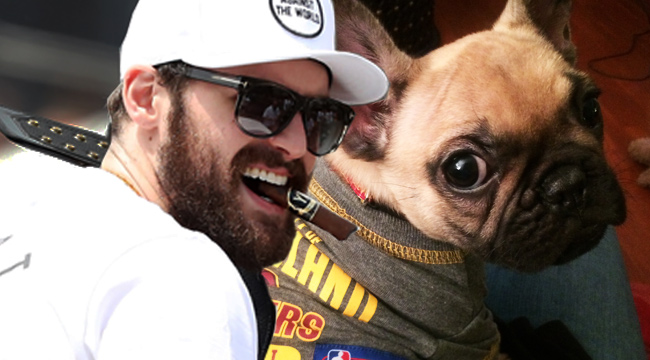 Congratulations, folks! You've managed to slowly drag yourself through the last vestiges of the trash fire that was 2016. We here at Uproxx Sports thought we could all deserve a reward for making it through the utter ridiculousness of the past year, specifically by focusing on the utter adorableness of this tiny puppy named after Kevin Love.
Yes, that's right! There's a Cleveland sports dog that isn't going to depress the hell out of you.
I spoke briefly with his owner, Yusuf, about what inspired him and his girlfriend to name their tiny puppy after Love when they had a seemingly unnatural amount of Cleveland sports heroes to choose from lately.
"Well my girlfriend Lauren and I are both huge Cleveland sports fans," Ahmed says. "We had been talking about getting a puppy and we wanted him to have a name with a Cleveland sports influence. The Cavs' comeback happened to coincide with our puppy search. Obviously LeBron was the MVP, and Kyrie hit the shot, but we both love Kevin Love. Personally, I've always stood up for K-Love while other Cavs fans have lamented the Wiggins trade."
"Game 7 of the finals was the perfect microcosm of Love's role in Cleveland," Ahmed continues. "Nothing in the box score stood out but he was the unsung hero in locking down Steph Curry on the possession after Kyrie hit the three-pointer. As soon as Love forced Steph into that brick, I turned to her and said, 'If we hold on, our puppy is going to be named Kevin Wesley.' It did, and the name came to fruition."
Now, if we're anything in these parts, it's thorough – and thoroughly interested in dogs. I had to know more. Like, for instance, how is Puppy Kevin similar to Human Kevin?
"I'd say they're both quirky individuals whose skill sets surprise people," Ahmed says. "Kevin the basketball player seems like a banger but he surprises people with his range. Kevin the dog pretends to be tough but he's really a softy at his core. They're also both crowd-pleasers who just want to be liked and fit in. They also both have great hand-eye coordination."
YES. Yes they do.
But here's the thing — Human Kevin has set the bar so high when it comes to his recent accomplishments. Those are literally and figuratively big shoes to fill for a tiny little doggo. What's the benchmark for success Puppy Kevin is shooting for (get it? Shooting? Like basketball??) in the new year?
"Kev is shooting for being completely housebroken early on in 2017," Ahmed says. "He's also shooting for being independent enough to not lose his sh*t when people leave the room for more than 30 seconds."
This answer is doubly delightful if you pretend it's about Human Kevin.
In a perfect world, this would be a story about both Kevins gleefully uniting before a game at the Quicken Loans Arena, and just full of tall basketball men holding wee puppies. Alas, while this isn't the case, Yusuf is sure the two would get along swimmingly.
"They'd get along so well," Ahmed says. "Lil Kev loves everyone. Someone could come into our house and rob us blind and Lil Kev would just want to snuggle that guy so hard."
PLEASE NOTE: Yusuf and Lauren seem very nice. DO NOT attempt to rob Yusuf and Lauren.
So what's next for Tiny Kevin? Will he ever meet Extra Large Kevin? Is he going to be the Cavs secret good luck charm in 2017? Should he really have been named "The Warriors Blew A 3-1 Lead" The Dog? I dunno about you, but I'm already way pumped for the New Year, and for what that year will bring for both Big and Lil Kev.