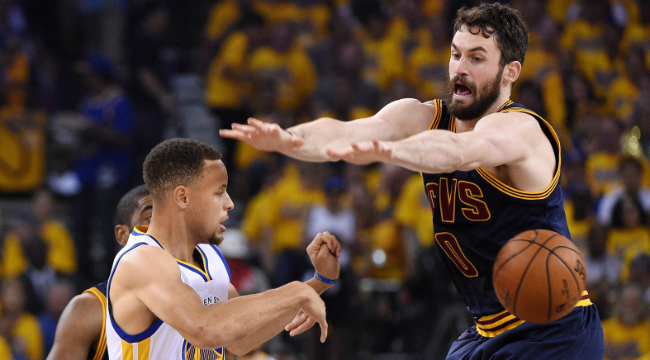 The 2016 NBA Finals, you know, the one where the Cleveland Cavaliers made history by becoming the first team to ever come back from a 3-1 deficit, is remembered by three specific events.
There's "The Block," when LeBron James chased down Andre Iguodola and pinned his lay-up attempt to the backboard. That led the "The Shot," when Kyrie Irving pulled up and hit what would be the game-winning 3 over Steph Curry. And then there's "The Stop," when Kevin Love somehow stayed in front of Steph Curry for an entire possession and forced him into a wild 3-point attempt.
Love says the final part of that iconic trio was actually really bad defense on his part.
"I think it will be a legacy-defining moment for me, but I let him get the ball back, and when you have a guy who you're double-teaming or trapping, and you're trying to get the ball out of his hands, you don't let him get it back," Love said in an interview with GQ. "It was actually a poor defensive sequence. I just happened to keep my feet down and played great individual defense when the time came."

Calling what he did a "poor defensive sequence" feels a little strong. Love, a person who has moved laterally like his feet have been encased in cinder blocks for his entire adult life, was able to mirror Curry's every move, twice, something that should not be possible in the realms of men. For a guy that was constantly hunted in the pick and roll by the Warriors for three straight Finals because of his lack of lateral quickness, Love should be proud.
"As far as my top plays in my career, yeah, that'll be up there," Love said. "We won a championship, and there were three great plays—the block, the shot, and the stop. The block was the best block in NBA history. The shot was one you do in your driveway when you're young. And then I kept my feet down [laughs]. I mean, that's a shot he makes all the time. It's not like I blocked it. But it was a big play, I know that. No matter how many times people ask me that, I'm always going to play it down. It was a huge moment in my career, but having that iconic moment of hugging 'Bron, and then all our teammates and coaches embrace, that's what I'll remember most. That was special."