MILWAUKEE – Khris Middleton is very happy the Bucks got a 113-110 win over the Blazers, because the win on the court is easing the pain of a spades game that isn't going nearly as well.
Aside from the basketball court, this is where the quiet kid from Charleston finds himself the most comfortable. In the basement of his new home just west of Milwaukee, his best friend from back home, Travis, has paired up with his Aunt Faye to lay a ruthless beating on us, while his girlfriend Sam and Aunt Vanessa look on.
Travis is a relentless talker, but it's the moments when Faye chimes in that sting the most. At the end, she shakes her head in disgust noting that it's "not even fun beating y'all like this" as she slaps the Guaranteed Joker down to take the final book of the night and run us off the table for good. Travis offers the chance for revenge on the pool table, but Khris has had enough. A morning workout awaits.
The humbling of the Bucks' 26-year-old wing may have ended at the spades table, but it started earlier in the night at dinner, where the entire family got together after the game.
Middleton shakes his head as his mother, Nichelle, takes advantage of the gathering to regale everyone with stories of a young Khris and his sister, Brittney, who's in town with her husband Ike and daughter Zara. There was the time they got kicked out of the house by their dad, James, for an afternoon for arguing and weren't allowed to speak to each other for a week. Or when they used to go to Faye's house and create a slip-n-slide on the linoleum kitchen floor with water and dish soap with their cousin.
It's here where the usually stoic Middleton opens up, laughing about old stories, setting the record straight about who got injured doing what, and returning fire when his sister brings jokes his way. Travis laughs about watching Khris stand on the fringe of Bucks' huddle when everyone else is jumping around, getting hyped up, and how that's the way he's been since they were kids playing together on the AAU circuit.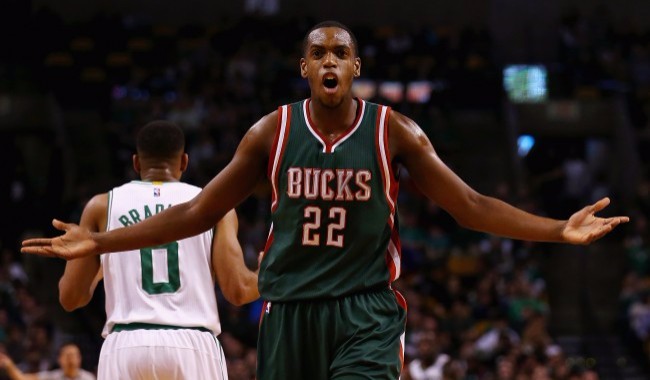 Here, he's still that kid and his multi-million dollar contract does nothing to protect him from jokes or embarrassing stories being told for the hundredth time. On the Bucks, though, Middleton has found himself as one of the team's veterans, a status that snuck up on him but one he's trying to embrace.
Middleton's only entering his sixth year in the league, but on a team filled with 25-and-unders, with a 22-year-old superstar in Giannis Antetokounmpo, it's a responsibility that's suddenly fallen on him.
"It really hit me this year," Middleton says. "I looked around the locker room and was like, OK, yeah I've got to really be one of the leaders."
He talks with Greg Monroe (27) – who was recently shipped to Phoenix as part of the Eric Bledsoe deal – and John Henson (26) about handling that role as two of the other young vets on the squad. He also consults with the one true grizzled vet on the team, 40-year-old Jason Terry, on how to relate to the young guys, considering there are six players on the roster 22 or younger, and regularly calls on his old vets in Zaza Pachulia and Corey Maggette for advice as he adjusts to his new role.
Middleton joked that while he's become one of the vets on this Bucks team, he's still trying to figure things out for himself as well, both on and off the court. Last year he had one of those learning experiences outside of basketball after he got sick eating seafood during a road trip in Minneapolis.
The Charleston native can't help but be enticed by fare from the sea.
"What were you thinking?" was the general response from his coaches and teammates when they found out how he got sick.
His friend Travis explains this is why he won't eat seafood outside of Charleston, but, as a good friend does, still tries to give him the benefit of the doubt, noting that they do have a lot of lakes in Minnesota. Therefore, it's reasonable to get seafood from there. So what was the culprit?
"Sea bass," Khris says with a sigh.
"That's not a lake fish! Come on, man."
"I know, I know," Khris responds.
On the court, Middleton's found comfort within his role in Jason Kidd's world of positionless basketball. He starts at small forward for now, alongside Malcolm Brogdon, Tony Snell, Antetokounmpo, and Thon Maker. It's an amalgamation of wingspan and versatility that effortlessly switch on defense and share the load as ball-handlers on offense.
Middleton acts as point guard at times, initiating the offense and being an alternative creator off the bounce for times when defense hone in on Antetokounmpo (or when he's off the floor). Middleton's reputation is as a shooter, a classic 3-and-D guy, and that's not entirely false. Since he arrived in Milwaukee in 2013, Middleton has ranked either first or second on the Bucks in three-point percentage. However, one only has to look to this season and the impact he's had on that end, while struggling from beyond the arc, to see the strides he's taken in becoming a more complete offensive player.
Middleton has struggled out of the gate shooting from distance, currently sitting at the bottom of the list of Bucks in three-point percentage at 26.9 after 10 games. While his track record indicates that will surely rise as the season progresses, the Bucks still see the biggest drop in net rating and offensive rating when Middleton is off the court compared to anyone else on the team, including Antetokounmpo.
Antetokounmpo is the star in Milwaukee and the centerpiece to the franchise, but Middleton's impact on the team as a complementary piece to their budding megastar is critical to their success. With Middleton playing, the Bucks' have a 111.7 offensive rating and a 108.0 defensive rating. When he leaves the floor, that craters to a 91.8 offensive rating and a 114.5 defensive rating. In short, the team's net rating with Middleton is +3.7, compared to a -22.7 when he's not on the court.
He leads the team in assists at 5.5 per game, showing his growth as an on-ball player and a facilitator when driving to the hoop. Most importantly, he and Antetokounmpo, now in their fifth year together, have learned how to play to each other's strengths and the growth of both of their abilities on the ball as facilitators in recent years has made that partnership stronger.
"He knows I'm always going to be in that corner or that slot waiting for that kick pass if he needs to be bailed out," Middleton says. "And he knows most of the time when I'm driving to the paint I'm looking for him on the cut or for a backdoor. It took awhile at first for us to get comfortable on the court at the same time together, but we've grown, we've learned each other's games, and we've watched a lot of film. We've also got our playmaking skills to be a lot better like J-Kidd's wanted us to do."
Middleton and Antetokounmpo share the floor an average of 27.2 minutes per game and the Bucks have a +9.8 net rating in those minutes this season. If Middleton's three-point shooting regresses to the mean, as one would expect for the career 39.7 percent three-point shooter, that figures to only get better and, the Bucks hope, will help the team climb the Eastern Conference standings.
The duo work wonderfully together and take cues from each other. Middleton understands their dynamic and knows when Giannis is on the floor it's the Antetokounmpo show and he's there to create space, lend support, and, at times, advice.
"When he's in the game I get to kind of take a breather," Middleton says. "He's going to do most of the damage of creating and forcing the action, and I just try to be in the right spots for him knowing most times teams aren't going to help off me and tell him when he needs to use his teammates. When he's off the court, that's when I have the ball in my hands a lot more and I start being more aggressive. And that's a cool balance."
For Antetokounmpo, being around Middleton's calm presence has helped him develop a similar patience and cool demeanor on the court. As he entered the league, Antetokounmpo always flashed the potential to be a transcendent star that he's now reaching, but, like so many young players, he would press and try to do too much. Now, he's more calculated on the floor, and points to playing with Middleton as one of the big reasons for that change in approach.
"The biggest thing I've learned from Khris is you've got to take your time," Antetokounmpo says. "You've got to know where your sweet spots are. You've got to know when to attack. It's not always your time, so you've got to have patience."
That patience he displays on the court is being tested in Middleton's newest hobby, golf, as he's got courses he frequents near his homes in Charleston and Milwaukee.
"That's the thing I'm into now, and I love it," Middleton says. "It's challenging. It's frustrating. You want to quit, and then you hit one nice shot out of 20 and you think you've got it."
Golf occupies much of his summer free time now, but living in Milwaukee, there aren't a ton of in-season golfing opportunities for him and he doesn't want to bring his clubs on the road for fear of raising any eyebrows from his coaches. So, Middleton fills his time outside the facility during the season with the interests of a pretty typical 26-year-old.
His favorite activity on the road is binge-watching TV shows on Netflix — right now he's working on Prison Break, The Blacklist, Dexter, and The Office — and it's one of the reasons his only requirement in searching for a new home this summer was to find one that had a home theater already built in. While not a 2K guy — as he puts it, he spends enough time playing basketball and likes to have a break from it at home — his video game of choice is FIFA '18, although he laments not having enough practice time with the new version which has led to him being embarrassed by the Bucks' rookies on the sticks.
If not working his way through a new show, out to eat with the guys, or working on his FIFA skills, there's a good chance he's searching for new additions to his massive sneaker collection. Whether it's slipping out to the Nike company store when in Portland, Flight Club when in New York, or scrolling through the Nike website, Middleton is always on the hunt for new shoes. He has closets at both of his homes dedicated to housing his sneakers, with shelves covered in Jordans and Nikes, and a peek into his collection will make most any sneakerhead jealous.
"That's what I like to spend my money on instead of all the other stuff," Middleton says. "I feel like it's one of the cheapest ways for an NBA player to spend their money. The favorite ones are the 3's, 10's, and the 11's. Those are probably the ones I wear the most. I have a lot of 9's, I don't know how I got all of them exactly [laughs], but I love wearing the 3's, 10's, and 11's because they're the most comfortable. And the 1's cause they go with anything."
The crown jewel of his collection has been taken out of the rotation, sadly, as an incident involving pizza ruined his favorite pair two years ago.
"My Concord 11's," Middleton says wistfully. "Classic pair, one of the best shoes that's ever came out. I'm kinda mad, I gotta get a new pair. Two years ago I spilled some pizza sauce on one of them. You can't get that out. But that's definitely one of my favorite pairs. I don't wear them that much cause I don't want to mess them up anymore."
At 4-6, the season hasn't gotten off to the start the Bucks hoped it would. Middleton's individual performance has started to pick up after a bit of a rocky start, with strong showings against Atlanta, Charlotte, and Cleveland in the past week-plus. However, he knows more is needed from himself and the team as a whole.
The Bucks won't sneak up on the East like they did last year with their run to the playoffs and competitive first round series with the Raptors. Antetokounmpo is a bonafide star and with a healthy Middleton, the reigning Rookie of the Year in Brogdon, the recently-added Bledsoe, and a cast of quality role players, Milwaukee was a trendy pick to crack into the top half of the East this season. Middleton remembers the last time the young Bucks faced lofty expectations, and hopes this time, they'll learn from the mistakes of the past.
"We have to attack every game every game like we're being attacked," Middleton says. "We were in this position two years ago and we didn't handle it well and we didn't make the playoffs when we should've. We have to block out those high expectations from everyone else and do our job every night, knowing that guys are coming for us. We have to stay hungry and realize we're not a team that can turn on a switch, we have to come out and be ready to compete every night."
The Bucks have already made a move to try and bolster their roster and their hopes of a strong playoff seed by adding Bledsoe. The point guard gives them another offensive weapon alongside Antetokounmpo and Middleton, and they were able to hold onto Brogdon and the rest of their young players to land him. How well he fits and how the trade works out will remain to be seen, but it's a move that shows the entire organization wants to avoid the same fate as two years ago.
Bledsoe giving them another dynamic playmaker along continued development of Brogdon, Snell, and others will be important to the Bucks' success, but everything with this team starts with Giannis and the best complementary piece to him in Middleton. Right now, the threat of him shooting and his willingness to put the ball on the floor to attack and facilitate is helping open up space, but the Bucks won't reach their full potential on offense until the three-point shots start to fall for their best shooter.
Middleton isn't worried about the early slump, speaking with the confidence in his mechanics and track record to turn it around. Khris Middleton's going to keep shooting, because shooters shoot. When they start to drop, expect the Bucks to go on a run. It's the same stroke his father taught him in the driveway, that took him through AAU ball and high school to become a D-1 prospect out of a Charleston area that, at the time, wasn't a hoops hotbed.
Dad may have taught him to shoot, but he never expected to see his son in this position. He laughs when he talks about being at an AAU tournament in Augusta, Georgia when Khris was in middle school and stepping into another gym to watch a game featuring Derrick Favors and then returning to tell Khris that at least they'll never have to deal with guys at that level. Now, he can't help but beam when watching his son's turn into an NBA starter.
While his jumper came from his dad, you can point to his mom and his aunts as the sources of his competitive streak. Nichelle, Faye and Vanessa are kind, caring and supportive, but come time for cards to be dealt, they're ruthless. That same kind of switch flips for Khris from on the court to off the court.
Back at dinner in Milwaukee, the Middleton family is still buzzing about the game. They marvel at Antetokounmpo's 44-point performance and give Khris his props for icing the game in the final seconds with a pair of free throws. The switch has flipped back off for Khris. This is his comfort zone, surrounded by his family that at once keep him humbled, yet assured of his talents. It's why he spends much of the offseason back in Charleston and his getaway over the summer was a family trip to the Caribbean.
Khris is nothing if not true to his roots. As food gets brought out, seared tuna and a side of lobster mac-n-cheese arrives in front of him. Some habits die hard.