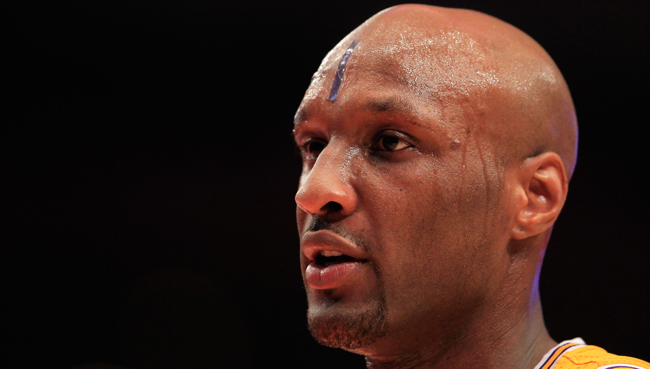 It's been some time since Lamar Odom was hospitalized following an incident at a brothel in Nevada. The incident was terrifying, as one of the NBA's most uniquely talented players went into a downward spiral that ended in near disaster.
But since then, Odom has recovered, and has been open about his past. This doesn't just mean drug use and how that impacted his life, but as we learned from a clip of the BET show Mancave, Odom is willing to open up about his marriage to Khloe Kardashian, which ended in a divorce.
Odom said that he believes Kardashian, who is pregnant with her first child, is going to make a "good mother" because of how she took care of him after his incident. But he also said something that crossed a line when asked about when he knew the marriage between the two was over.

"Her initials are still on me," Odom said. "For no reason. I understand when it's over, it's over. When she was with her second or third NBA ballplayer, I could see that."
It led to laughter in the room, but unsurprisingly, it did not sit well with Kardashian's sister, Kim. After seeing a tweet regarding Odom's comment, Kim fired back at the former NBA champion.
Khloe said even before Odom's incident in Nevada that their separation "will weigh on me for the rest of my life," so Odom saying that about their marriage wasn't cool, as evidenced by the fact that Kim clapped back at her former brother-in-law like this.