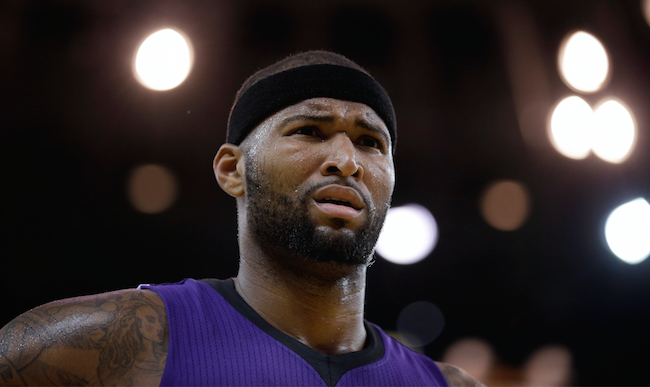 The NBA Draft has already taken a back seat to the DeMarcus Cousins drama. And if the Sacramento Kings and Los Angeles Lakers make good on their initial talks of a potential trade, Thursday night could prove a footnote to the biggest move of the offseason.
According to Yahoo Sports' Adrian Wojnarowski, the teams have discussed a blockbuster deal that would send Cousins to the Lakers for Jordan Clarkson, Julius Randle and the No. 2 pick in the draft.
The Los Angeles Lakers and Sacramento Kings exchanged possible frameworks of a trade centered on All-Star DeMarcus Cousins on Wednesday and discussions could intensify on Thursday, league sources told Yahoo Sports.

[…]

Kings vice president of basketball operations Vlade Divac has pursued a possible deal that would include a bevvy of assets, including the Lakers' No. 2 pick in Thursday's NBA draft, rookies Julius Randle and Jordan Clarkson and other draft assets, league sources told Yahoo Sports.
Wojnarowksi also notes that Los Angeles is reluctant to surrender both rookies and their prized high lottery pick in a deal for the All-Star big man.
While the Kings' asking price is indeed steep, it's certainly one the Lakers should be willing to pay. Though Clarkson proved one of the league's most pleasant surprises in his rookie campaign and Randle is fully recovered from the broken leg that he sustained in the season-opener, neither stands to emerge as the type of foundational cornerstone that Cousins already is – even if reaching their individual ceilings.
Losing the second overall pick is a tough pill to swallow, too. But all Los Angeles needs to regain its status as the league's preeminent free agent destination is the established long-term promise it currently lacks. With Cousins locked into an extremely reasonable contract through 2017-2018, the Lakers would be well-positioned to take full advantage of the rising salary cap in free agency come each of the next two summers.
Just as importantly from a league-wide perspective, Wojnarowski reports that the Kings – who have to this point vehemently denied any intention of moving Cousins – have begun peering down other trade avenues, too.
The Kings started to engage with teams and explore possible trade scenarios beyond the Lakers on Wednesday, league sources said. Sacramento management has publicly said it won't trade Cousins, but that stance has increasingly softened…
We'll keep you updated as news on this developing story becomes available.
[Via Adrian Wojnarowski]