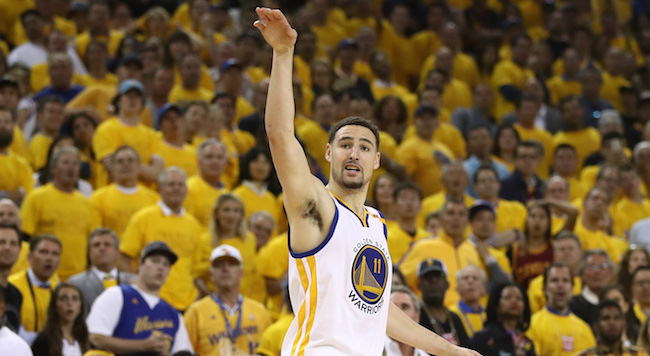 Klay Thompson is one of a very few NBA stars who has a sneaker deal with an overseas company. While most NBA stars have deals with Nike, Jordan, adidas, or Under Armour, Thompson is signed to Chinese sneaker company Anta.
So, after the Warriors wrapped up their second NBA title in three years, Thompson took his championship celebration over to China while he did some promotional work for Anta. We've already seen that Thompson is feeling himself maybe a bit too much after winning a second ring, as evidenced by his failed 360 dunk attempt at a fan event.
We got even more evidence that Thompson is in his own zone right now courtesy of a video taken of Thompson in his own section absolutely vibing and dancing to some EDM at the club.

That is a man who couldn't care less what anyone around him thinks. He is just in the moment and loving life as the mayor of smacked city, and couldn't care less if people think his dance moves aren't great. When the video of Thompson dancing hit Twitter, there were plenty of jokes, including this excellent one from Blazers guard C.J. McCollum.
Who knows what Thompson consumed that night at the club, but it doesn't matter. That's a millionaire with a couple of championship rings living his best life at a club in China.