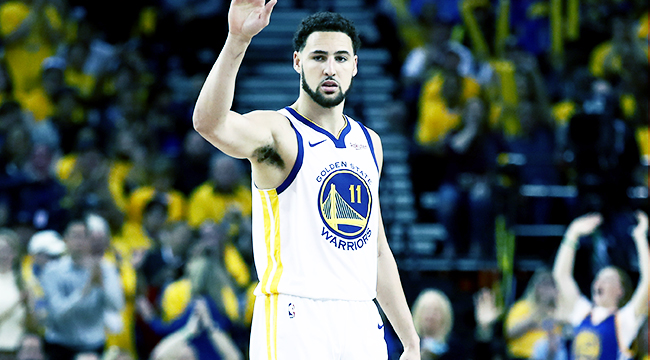 If it wasn't readily apparent after he missed Game 3 of the NBA Finals, the Golden State Warriors miss Klay Thompson when he's out as much as anybody else in their fully-healthy starting lineup. His combination of shooting, gravity, and high-level defense makes him an immensely valuable player for a Warriors team that's not particularly deep on the perimeter. Thompson's calling card defensively is his versatility to swing between three positions, but there was always a thought that he'd have trouble holding up physically against the biggest and strongest wings in the league.
Fortunately for Golden State, they always had Andre Iguodala or Kevin Durant to take those primary matchups. But with Iguodala hobbled and Durant out for the series, it's been up to Thompson to take the primary defensive matchup against Kawhi Leonard to open and close games. In Game 5, his defense was a key difference down the stretch, as Toronto's offense collapsed nearly as soon as Golden State made the defensive switch.
Following an eight-point spurt from Leonard over three possessions, the Warriors relied on Thompson to check the Raptors star with about 3:45 left in the fourth quarter. Toronto had one hand on the trophy after Leonard's heroics put them up four points, but Thompson's presence on both ends would change everything.
This was the first possession of the stretch in which Thompson defended Leonard. Whether it was something Golden State planned to do or Thompson just took the matchup from Draymond Green is unknown; you can see Thompson switching from Kyle Lowry to Leonard and essentially kicking Green out of the matchup. Green would take the matchup on Leonard on the next possession, at which point he committed his fifth foul and Thompson would defend Leonard for the remainder of the game.
Leonard isolated against Thompson and scored what would be his final basket of the game, and there's even an argument that this basket shouldn't have counted, as Leonard seemed to drag his left foot as he pulled up for the jumper, but it went uncalled and Toronto took its largest lead of the fourth quarter.
After Stephen Curry missed a three on the ensuing Golden State possession, Nick Nurse took back-to-back timeouts to give his guys a rest and reset with an out-of-bounds set. On that play, Green reached in on Leonard to pick up his fifth foul, which triggered Thompson's permanent move to Leonard defensively. The next possession showed everything that's great about Thompson's defensive game:
Thompson tracked Leonard out beyond the three-point line, navigated a ghost screen from Fred VanVleet, then stuck to Leonard on multiple isolation moves, showing off his strength and lateral quickness. Leonard was unable to get to the basket and was forced into a fallaway jumper at the free throw line that missed everything. Thompson's ability to hold up against Leonard when he drives to the rim is outstanding, particularly because he should be giving up a weight and strength advantage in those situations. Instead, it's Leonard who had to cede ground.
After DeMarcus Cousins is called for a questionable goaltending on the other end of the floor, it was time for Thompson to display his off-ball prowess. As Toronto likes to do, they threw the ball to Marc Gasol at the elbow and had Lowry set a down screen for Leonard in what's referred to as "Chicago" action. Thompson read the play the whole way and got between Leonard and Lowry, forcing Leonard away from the screen.
A slight miscommunication between Thompson and Green left Lowry open, but he was unable to make them pay. For the most part, Golden State likes to switch when an offensive player cuts backdoor out of a down screen, since Thompson was on the wrong side of Leonard to take away the backdoor cut. Green dropped off as he was supposed to, but Thompson didn't want the switch, which left Lowry open.
Thompson is perhaps only second to Paul George among wings in his ability to slither through on- and off-ball screens. When Golden State goes away from their switching scheme, which they'll usually do whenever Green or Kevon Looney isn't playing the 5, Thompson becomes an immensely important part of their defense, as it's nearly impossible to screen him off and gain an advantage offensively.
Gasol set the ball screen on Thompson, but Thompson was entirely undeterred and forced Leonard to give up the ball, which helped to force a shot clock violation against the Raptors.
Leonard's best look of the final stretch came on the Raptors' next possession, when he had Thompson on his heels and pulled up for a three-pointer in isolation.
Thompson got back into the play to contest, but Leonard had already elevated and the contest likely didn't throw him off. The shot rimmed out, though, which gave Golden State the chance to seize the lead back once and for all. Thompson was the man of the hour on that end of the floor too, as he hit a three off of some beautiful Golden State ball movement.
The next two Toronto possessions went away from Leonard altogether, as Lowry ran two pick-and-rolls with Gasol in order to attack Cousins with a more adept passer as the ball handler. Lowry produced great looks both times, with a pocket pass to Gasol that resulted in a miss at the rim (and would later be called a foul on the Last Two Minutes report the league releases) and a drive himself that beat Cousins to the rim and cut the Golden State lead to 1.
On the game's final play, Thompson was once again matched up with Leonard, but this time had some help from Iguodala on the drive, as it was clearly a directive from Golden State to get the ball out of Leonard's hands.
The result was shown in highlight packages across the world, as Leonard had to give up the ball to VanVleet, who found Lowry in the corner for what should have been an open jumper. Green's preternatural help instincts prevented Lowry from getting a clean look and with the clock ticking down to zero, Lowry had no time to hit Gasol on the cut to the rim or dribble into a shorter jumper. The ball caromed off the side of the backboard and the series was extended to a sixth game back in Oakland, thanks to Green's play at the end and Thompson's defense throughout the last four minutes.
Thompson may not be able to hold up throughout an entire game of defending Leonard, but when it comes to crunch time, he'll be the name head coach Steve Kerr calls to take on the top defensive assignment. If the Warriors are to come back in this NBA Finals series, Thompson's defense against Leonard will be a pivotal aspect of what would be an historic performance. Iguodala and Green will get their chances throughout the game, but it will be Thompson who will be most important at the end of Game 6, and if the Warriors are successful in their final home game at Oracle Arena, Game 7.