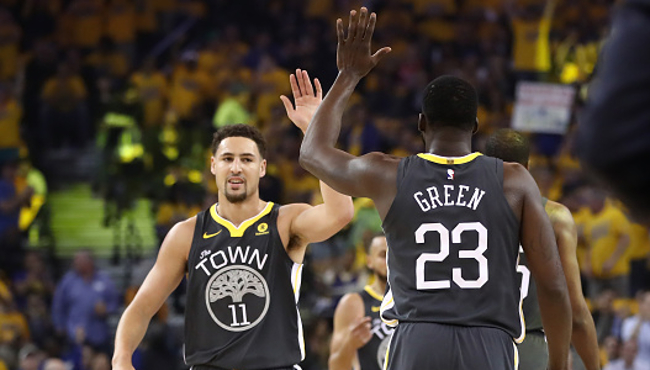 As we head into the third season of Kevin Durant in Golden State, we still find ourselves searching for a legitimate threat to the Warriors' NBA supremacy. Boy, did the Rockets ever come close last year. They had a 3-2 lead in the Western Conference Finals before Chris Paul went down with a hamstring injury and truly seemed to have the Warriors' number.
But all that's changed now. The Rockets lost some key contributors, and Golden State's stranglehold on the West has never seemed more secure (barring any last-minute blockbuster deal that lands Jimmy Butler in Houston). So when ESPN asked Klay Thompson this exact question at media day — who's the biggest threat to the Warriors? — he pointed to a young team out East as the strongest contenders to overthrow the throne.
Transcription via Drew Shiller of NBC Sports:
"I like the team out East in Boston," Klay told ESPN at Warriors Media Day. "They've got a very nice young team. One through five — they've got a team that kind of mirrors ours, as far as their length, guys who can shoot and play defense, and an unselfish way about things. So I think that they are going to be a team to reckon with."
Thompson was echoing what Kyrie Irving said earlier in the week about his Celtics team having the most talent up and down the roster of anyone besides the Warriors and thus believing they can beat Golden State in a seven-game series.
It turns out another Warriors teammate, Draymond Green, doesn't have a problem with that assessment, at least in theory.
"I think he [Irving] should believe that. I mean, one thing is, he didn't say they will beat us. He said they can beat us. As a leader of that team, he should say that, and he should relay that message to his guys, you know, force your guys to believe if you're going to achieve anything. So I respect him saying that, and obviously he's a guy who's proven he can win a championship, he's a guy who's proven he's gonna step up in the big moments, so I expect nothing less."
This is operating on multiple levels. First, Dray is careful to draw that important semantic distinction. Second, the blanket dismissiveness toward the Rockets provides some hilarious subtext here. The truth is that neither of them believe anyone can beat them, regardless of how close Houston came. That will continue to be true for as long as this core unit is intact.