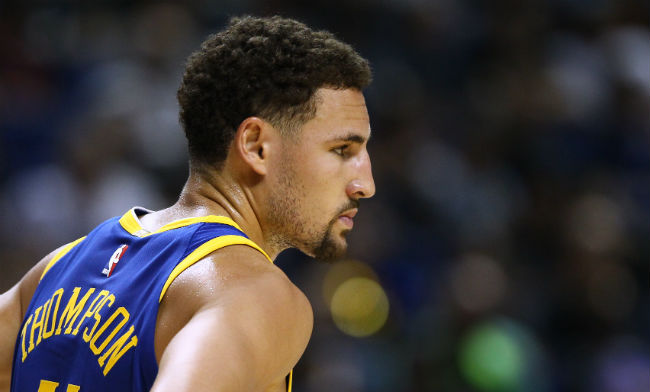 Preseason NBA basketball is what you make of it. For some teams with a lot of moving pieces, it's an important opportunity to develop some much-needed chemistry. For players coming off injuries, it's a great opportunity to get some runs in and work up to the pace of a real NBA game.
But for a team like the Golden State Warriors, it's more an exercise in routine than anything. There is little new about the team that matters much: its rotation is set, its offense needs little tweaking and everyone is healthy.
Suffice to say, the Warriors hosting the Sacramento Kings on Friday was not the most important sporting event in the area on Friday night. The big game, in fact, was a college football game that Klay Thompson was very much interested in. It was a big game for the No. 8 Washington State Cougars, who were playing a Pac 12 After Dark game against Cal.
Which is why Thompson appears to have left the Dubs game at the half in order to make it to the Wazzu game in time to see them get waxed, 37-3. Shortly before the game started, people tweeted photos of Thompson on the Cougars sideline before it all fell apart.
https://twitter.com/COUGFANcom/status/919075516308602881
There's Thompson in a Cougars polo, next to the Cougars mascot. That's when Twitter user Rob Perez swung into action, looking back at the Warriors game and noticing that Thompson wasn't anywhere to be found during the second half of the Warriors/Kings game.
Perez argues that Thompson had to have left Oracle Arena while the game was still going on in order to make it to the football game in time. And that certainly checks out. Thompson himself said he would rather skip the preseason game to watch Wazzu play in person.
It seems like Thompson and Steve Kerr came to a compromise of some kind. Too bad for Klay it worked out so poorly for his school.