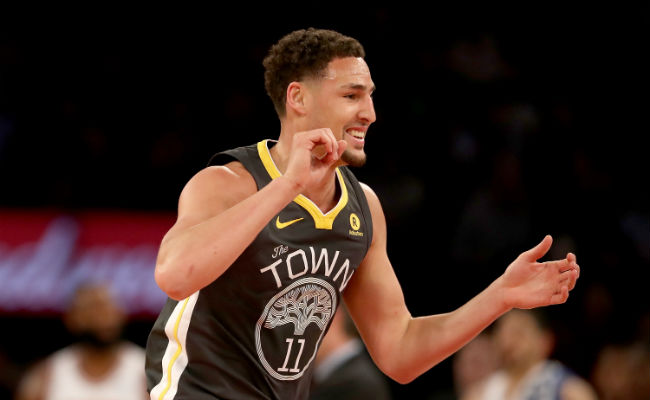 Klay Thompson may have brought back China Klay this week, but that might be the last thing we see the Golden State Warriors' shooting guard do for a while.
According to a report by Marcus Thompson II of The Athletic, Thompson might be off the court for the Warriors for "some weeks" with an injured right thumb. Thompson got to dancing on Monday night at Steph Curry's 30th birthday party, and though he almost hurt his leg trying to cut a rug, it turns out he may already have a significant injury.
Thompson was on a long list of Warriors players who were dealing with injuries on Tuesday, and the consensus was that the Dubs were just trying to be careful, especially given how resting healthy players is frowned upon at this point in the season.
Yahoo's Shams Charania reported later on Wednesday that Thompson will indeed miss "several games" due to his thumb injury.
Then ESPN's Chris Haynes chimed in with a bombshell: Thompson actually broke his thumb.
Golden State is still chasing the Houston Rockets for the top spot in the West, but losing Thompson would certainly make that more difficult. Curry was also on that injury list on Tuesday, meaning the starting guards of the Warriors are far from 100 percent right now.
The Warriors have said repeatedly they're not worried about the Rockets, just what they are doing on the court. And that's good, because right now their best bet is to get healthy for the postseason and worry about who they play later.