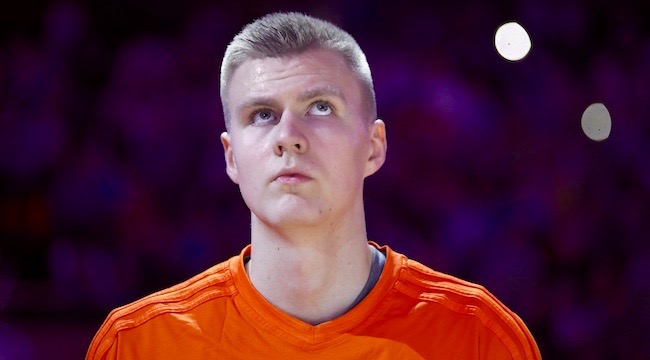 After a strong rookie season, it became abundantly clear to even the casual fan, that the future of the Knicks was in the seemingly capable hands of Kristaps Porzingis. This is even a belief that Knicks All-Star Carmelo Anthony backed as he frequently called Porzingis the future of the franchise last year. But it seems like Knicks team president Phil Jackson has a different idea about Porzingis and doesn't think the 7-foot-3 dynamic big man could actually help the Knicks in the years to come.
On Tuesday, The Vertical's Adrian Wojnarowski reported that Jackson wasn't ruling out possibly trading Porzinigs. Naturally, Knicks fans went ballistic at this news, aghast that Jackson would trade away the seemingly only player that the team could build around.
Adding fuel to the fire on Wednesday, Wojnarowski reported that the Knicks have actually made calls to other teams about trading Porzingis because they want to get a top-four pick to select Josh Jackson from Kansas.

Here's the full comment from Wojnarowski about the trade talks, insisting that the Knicks have indeed put calls out themselves:
The Knicks have made calls to teams about Kristaps Porzingis. I think they have tried to frame it as they're listening to teams, but they've put calls out. And, the Knicks are motivated to get into the Top 4 of the draft. I think Josh Jackson would be their target. If they could get what they consider a fairly elite young player. A young player that has a chance to be an All-Star or a very good starter in the league and one of the high picks this year. … They're clearly in a mode where they may move him. This is Phil Jackson driven.
This report has some serious legs due to the source but also because the Knicks' interest in Jackson has also been previously reported.
And to top it all off, Jackson confirmed in a Wednesday night interview on MSG that he was indeed considering trading Porzingis, and explained why trade offers are getting serious consideration.
Jackson could very well be a fine NBA player and has the potential to be an All-Star. But Porzingis is just 22 years old and has already proven that he could be a possible franchise-altering player. Plus, he is a fan favorite who is truly beloved in New York. All of this is why, as of right now, trading away Porzinigis and putting the Knicks on an even longer rebuilding path seems foolish and rather unnecessary.
Whether Phil Jackson actually pulls the trigger on a potential Porzingis deal remains to be seen but if he does, it likely will be yet another black mark on his tenure as the Knicks' team president, a tenure that has far more negatives than positives.