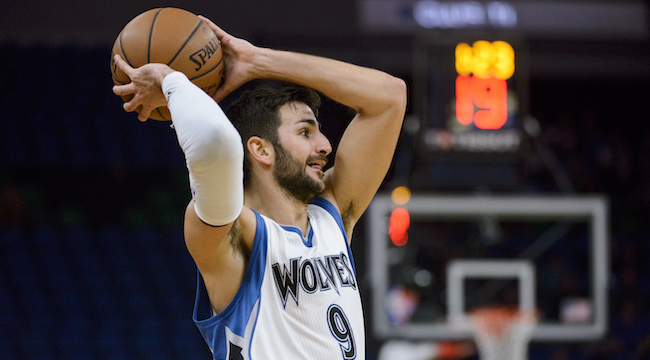 The New York Knicks are always interesting, even if the intrigue is rooted in a certain train wreck element. However, 2017 could be a pivotal summer for Phil Jackson and company with the looming notion that Carmelo Anthony could be better off elsewhere and Kristaps Porzingis seemingly unhappy with management.
That strange set-up should be enough to inspire many interesting rumors over the next several weeks but, on Tuesday, the whispers revolved around something of an "old" rumor. Ian Begley of ESPN reports that the Knicks could be interested in a deal that would bring Minnesota Timberwolves point guard Ricky Rubio to New York.
Some in the organization were hopeful after the trade deadline that they could revisit their attempts to acquire Rubio from the Minnesota Timberwolves in the offseason, per sources.

It's unclear if that interest remains, but Rubio would fit the mold of a two-way contributor. He is one of the 49 players who had positive real plus-minus ratings on both offense and defense last season.
This, of course, is not the first time that Rubio has been linked to the Knicks, as rumors that he could be swapped for Derrick Rose were prevalent near the February trade deadline. The report is couched within a deeper post centered around New York targeting two-way players in the mold of Courtney Lee and, while Rubio's shooting woes are well documented, he is one of the best defenders and passers in the NBA at the point guard position.
Not to be outdone, the Knicks were also linked to free agent targets in a similar manner, with P.J. Tucker, Jonathan Simmons (who happens to be restricted) and Dante Cunningham included among the names. In addition, unrestricted free agent Justin Holiday, who impressed at times last season with the Knicks, was mentioned as a potential member of the team for 2017-2018 and beyond.
Rubio, though, is easily the biggest name and the one player involved that would require a real return for the Wolves. Minnesota did invest a top-five pick in Kris Dunn less than 12 months ago but the rookie flailed in limited time and backup point guard Tyus Jones likely profiles as more of a role player moving forward. Given the way that Tom Thibodeau has attacked the "rebuild" for the Wolves, it might seem odd that the team would sell on Rubio without a plan at the position for the immediate time frame and it takes two teams to engage in the way that New York may desire.
Somewhere, a Knicks fan is fantasizing about a 2017-2018 backcourt of Ricky Rubio and Malik Monk. For now, that remains nothing more than a dream but there could be some fire with the smoke of this report.