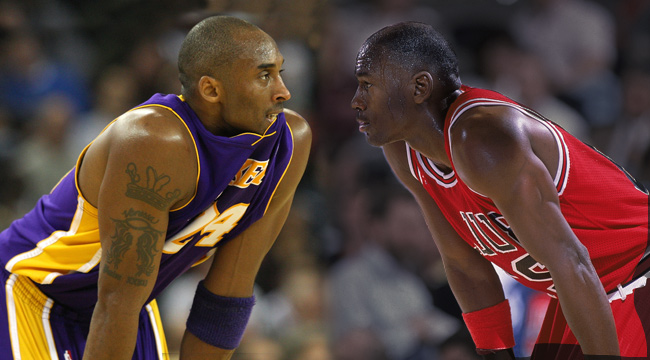 Kobe Bryant is out of the NBA so now he's free to do as he pleases and randomly drop by podcasts to drop nuggets of wisdom and his thoughts about the league as a whole and life in general.
Bryant, in promoting his "Dear Basketball" short film, hopped on the Hollywood Reporter's "Awards Chatter" podcast this week and brought his takes on a variety of topics over the hour-long conversation. Some of the most interesting nuggets from Kobe came in a rapid-fire question run at the very end, in which he said very matter of factly he would kneel for the national anthem if he were still in the league.
The Lakers legend was also asked who he felt was the greatest basketball player of all-time was, to which he again didn't hesitate and answered Michael Jordan. For anyone hoping the Mamba would say himself, I'm sorry to disappoint you.

Kobe was then pressed to fill out his all-time starting five, and again, he left himself off of the list and went with a mixture of players from the 60s, 80s, and 90s, including a pair of Celtics legends.
"Who else would fill out the starting lineup of the greatest basketball team ever?"

"Well, I gotta go with my guys. Michael Jordan, Magic Johnson, Larry Bird, Bill Russell, and Hakeem Olajuwon. Those are my guys."
None of the five listed by Kobe come as surprises, and that would be quite the starting unit and hits with a guy that would be near the top of most anyone's all-time list at their respective position. Hakeem and Russell together would be a massive frontcourt and I guess if there were any weakness it might be having Bird as the only lethal perimeter shooter, but at that point we're just nitpicking.