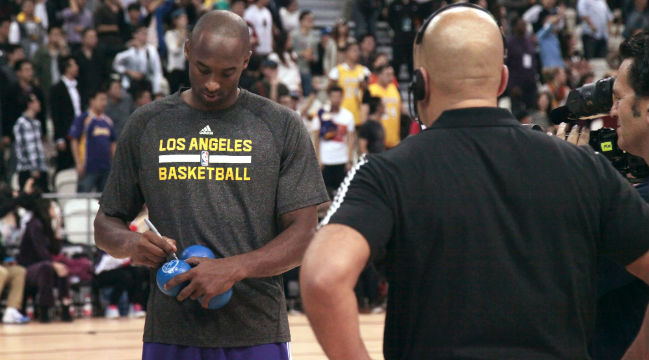 There's a silly scene in Like Mike where Dirk Nowitzki coyly tries to get Lil' Bow Wow's autograph. In a fun moment of fandom, Nowitzki says the autograph is for his niece, but is caught red handed when he says that his niece is named "Dirk."
Scenes like this – minus the fictional embarrassment that we saw out of Nowitzki – have apparently been common over the final few weeks of Kobe Bryant's basketball playing career. ESPN published a story on how a bunch of players around the league have done their best to get sneakers autographed by Kobe before his career ends in less than a month.
Bryant often doesn't just sign his name. He'll add a message too.

To Draymond Green, Bryant wrote, "Make history!"

To Tony Allen, Bryant wrote, "The best defender I ever faced!"

To Kevin Durant, Bryant wrote, "Be the greatest."

Bryant has signed pairs for Paul George and LeBron James, for former teammates Trevor Ariza and Caron Butler, and for many other NBA players.

He even signed a pair for Arizona Cardinals wide receiver Larry Fitzgerald, who recently ventured into the visiting training room in Phoenix to meet with Bryant.
These meetings are apparently more than just guys meeting up with Bryant. The story mentions two players in particular who apparently really appreciated getting his autograph, as Emmanuel Mudiay was nearly moved to tears and John Wall expressed appreciation over the fact that his mom was there to watch him get Kobe's autograph.
As for Kobe's response, it turns out that he enjoys these little acts of basketball camaraderie.
"It's great," Bryant said this week, "because they know. During competition in previous years, there's no time for that. Now, it's different. You get a chance to talk and catch up and give some advice and things like that."
With only eight games left before the Lakers' season ends, the demand for a Kobe autograph will be higher than ever. This won't just be the case for fans, as other players will almost certainly bend over backwards to get one final piece of memorabilia before Mamba's career ends.
(ESPN)