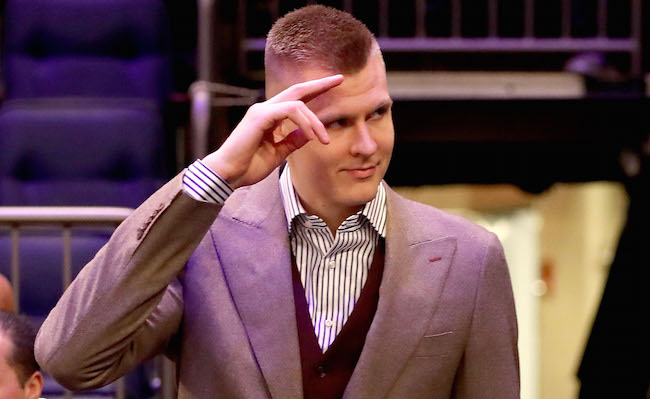 Kristaps Porzingis is on the road to recovery after knee surgery and the most recent information on his comeback reveals "good progress" for the New York Knicks big man. Still, the 23 year old has not appeared in an NBA game since early February and it is sometimes easy to allow him to fade into the background when remembering all of the bright, young stars in the league today.
Kobe Bryant hasn't forgotten about Porzingis, though, and that was clear in a recent message put forth by the legendary shooting guard. Porzingis revealed on his Instagram story that Bryant sent him an autographed copy of his book and there was a clear message to "get healthy."

As you can see, that wasn't the only two-word quip from Bryant but the retired Lakers superstar continues to remain visible in the way that he mentors young players from today's generation. At this point, it might be a little bit surprising if Porzingis actually takes the floor this season, even with the Knicks saying he'll be re-evaluated in February, but there is no reason to think that he won't be ready to go at full strength when the 2019-20 campaign opens in October.
Bryant won't be the reason that Porzingis returns full-time or that he plays well upon arrival. Still, it was important enough for Porzingis to share with the world and this is another example of the type of power that a few words from a legend can have.