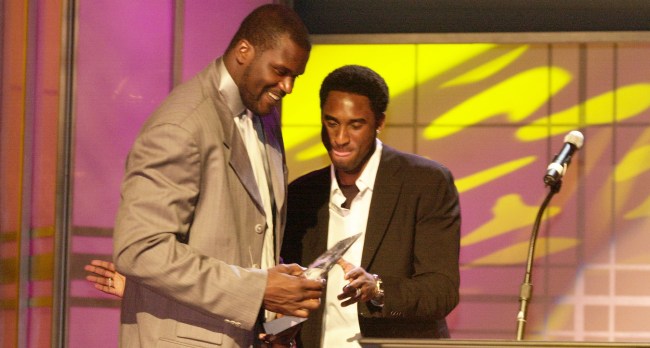 During ESPN's "Grantland Basketball Hour" on Sunday with Kobe Bryant, Bill Simmons and Jalen Rose got into a conversation with Mamba about whether the Oklahoma City Thunder were now Russell Westbrook's team — as opposed to th 2014 NBA MVP's squad. Kobe was uncomfortable with the question, saying, "I have a hard time understanding those kind of conversations." We couldn't help but think about the Lakers' three-peat to begin the millennium.
With Durant in and out of the lineup, Russell Westbrook has been playing out of his mind during an 8-1 February for the Thunder. Combined with Phoenix's tumble, Westbrook is the biggest reason the Thunder are comfortably ensconced in the playoffs right now — a two-game lead is comfortable in a stacked Western Conference.
So why are we bringing up Shaq and Kobe? The question Simmons and Rose bring up, then wash their hands of by saying it's a question only the media cares about, has to do with whether Russ has inherited the ALPHA position on the team. It IS a dumb question, one that Westbrook and Durant have been answering — by usually ignoring — for a few years now. But it's one reporters and fans always wonder about: Whose team is it, really?
Except that question isn't solely relegated to the media.
The 2001-2004 Lakers faced the same struggle: was it Kobe's team or Shaq's? In 2000, Shaq was at his apex as a player and the Lakers crushed most opponents on their way to the Big Aristotle's first Finals win. But by the next season, Mamba had come into his own and was pressing Shaq for the mantle of  "his team." By 2002, there were already whisperings of discontent between the two stars and when the Lakers failed to get past the Spurs in 2003 their growing animosity became a real chasm. In 2004,  Karl Malone and Gary Payton were added to the mix, Kobe was accused of sexual assault, and the two star's antipathy towards each other became newspaper fodder seemingly every day (yes, newspapers were still read then).
It was this jockeying for ALPHA status that did in Kobe and Shaq. Bryant thought O'Neal was lazy and should do a better job getting in game shape before each season, rather than using the regular season to play into shape for the playoffs. Vino didn't like to see O'Neal get all the credit for their titles; Kobe's idol and blueprint for success, MJ, won his without a dominant center and as their undisputed leader.
Shaq thought Kobe was an insecure kid who shouldn't question his bonafides as the Lakers leader and the most dominant player in the game. So what happened that summer? LA dealt Shaq to Miami for 50 cents on the dollar, and Kobe started to suffer through his Smush Parker sabbatical from true title contention.
To say that questions of "whose team is it" are superficial and Kobe is somehow above such a tripe storyline is ignoring the first half-decade of his career. The 36-year-old Kobe sitting with Rose and Simmons has learned that lesson and then some, so it struck us as odd he'd never once bring up his battle of wills with O'Neal — until the very end at least:
"We want players to be unselfish; we want them to be a part of a group; we want them to be a part of a team. But yet when they win, we're quick to say, 'well, it wasn't your team,' so your championship is devalued. It makes no sense. You can't have it both ways. So we can't sit here and say: 'well, whose team is it.' The fact of the matter is they both have different personalities, and they can drive the team in their respective ways. The key is for the rest of the team to understand what personality does what, and what areas of the game can that personality benefit us. That's no different than with me and Shaq."
That last line by Kobe was almost whispered and Simmons and Rose do an excellent job glossing over the obvious overlap between KD and Russ and Kobe and Shaq.
Still, it's worth mentioning players think about "whose team" it is as well. Maybe not consciously, and almost never publicly, which is what made Bean and O'Neal such perfect Hollywood tabloid fodder, but the old adage you're only as good as your worst player doesn't necessarily ring true when you get to the NBA playoffs and rotations shorten. The best player has to step up in the postseason, or their team is lost. It's part of the reason the Knicks mortgaged most of their future acquiring a player, Carmelo Anthony, they felt — or more accurately, James Dolan felt — was that ALPHA player; the guy you could win a championship with.
It's still funny to us that Kobe needed Pau Gasol and Shaq needed a still-healthy Dwayne Wade to win their next title(s), with Pau acting as the Lakers' second-best player in their 2009-2010 Finals wins, and Wade acting as the Heat's Finals MVP in 2006. If Shaq and Kobe had been able to successfully transition into a new power dynamic, maybe they never break up and the Lakers' championship trifecta at the beginning of the aughts turns into five or six or seven titles over the ensuing decade. It's one of the Association's best "what if's" and there's only one mention of it from Kobe above.
For Kobe to cast aspersions on the question itself fails to account for his own inter-team turmoil with Shaq, which — for all the external factors surrounding that team — was the foundation for their parting.
For OKC fans, they're hoping no such power play develops between KD and Russ. The fact that both players grew up together in the NBA gives us hope a rift never appears, but that's part of the reason they keep getting asked and why Simmons, Rose and Bryant were talking about it Sunday night.