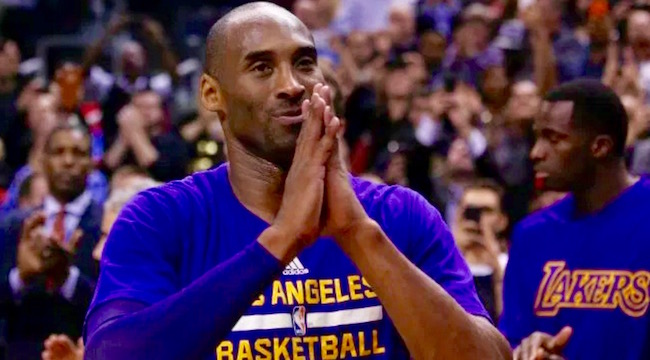 Jerry West. Kareem Abdul-Jabbar. Magic Johnson. Chick Hearn. And Shaquille O'Neal. That esteemed quintet of hoops royalty is synonymous with the Los Angeles Lakers, and the league's glamour franchise decided to immortalize each franchise legend with a statue standing outside of Staples Center.
O'Neal, a three-time champion and Finals MVP with the purple and gold in the early 2000s, didn't believe it when the plans for his memorial were unveiled on "Jimmy Kimmel Live" earlier this week. The future Hall of Famer had a much, much different relationship with the Lakers than Kobe Bryant, his sidekick en route to that career-defining three-peat. Kobe's place in Lakers lore has never been in doubt; the same couldn't always be said for O'Neal.
But it certainly is now, and with O'Neal's statue and Bryant's retirement both imminent, it's easy to wonder just how Los Angeles will honor the latter when his playing days are over. ESPN's J.A. Adande recently caught up with the five-time champion, who shed some light on the design process behind his future memorial – most specifically, that he won't be involved in it whatsoever.
"That's a weird conversation to have with somebody about their own statue and what they want to have," a grinning Bryant said.  "That's just a weird thing to think about."
For him, maybe, but certainly not for us.

Bryant's career lacks a moment like Michael Jordan's last shot with the Chicago Bulls. His iconic fadeaway jumper isn't unique enough to serve as the inspiration for a memorial, and his trademark look of maniacal intensity – with the jutting chin and toothy snarl – isn't exactly fit for artistry.
The look of his statue just isn't as obvious O'Neal's, nor those of West, Abdul-Jabbar, or even Johnson. Could that be why Bryant will supposedly refrain from giving input to those making it? Maybe. After all, it's not exactly like he lacks self-confidence.
After briefly combing through the most memorable junctures of his career, however, we're confident that Bryant and his millions of fans across the globe will love our submission for his monument on the Staples Center exterior. Remember this?
That's Kobe celebrating his fifth and final title, mere minutes after the Lakers beat the Boston Celtics in Game 7 of the 2010 Finals – a victory that avenged a loss to their long-time rivals in the championship series two years earlier.
Excellence. Perseverance. Intensity. Longevity. Joy. Love.
What moment could possibly be more Bryant than this one? Here's hoping Los Angeles realizes it when the time to memorialize him inevitably comes a few years down the road.