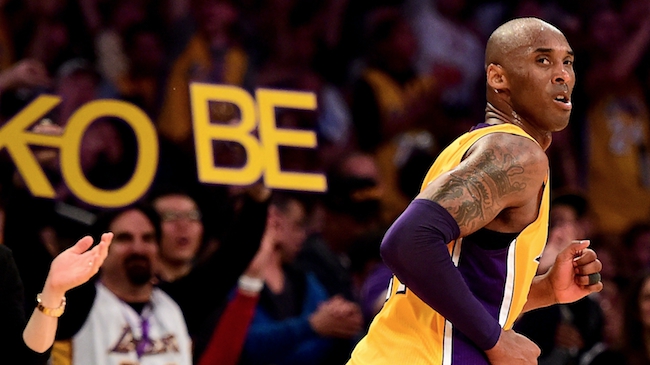 Who can forget that cold-blooded performance by Kobe Bryant in his final NBA game? It's not too often that fans are treated to a 60-point performance in a swan song, even if that player had to take approximately 800 shots against a team that may or may not have been letting him score.
But not only did Kobe drop 60 on the Utah Jazz on April 19; he also made a promise to Trevor Ariza of the Houston Rockets before it even started.
Ariza's Rockets played at 8 p.m. that day and needed to win to secure a playoff spot. They annihilated the Sacramento Kings, 116-81, which eliminated the Jazz before they tipped off their 10:30 contest in Los Angeles. The Jazz needed to beat the Lakers and have the Rockets lose to reach the postseason, but they knew that wasn't happening before tipoff.
So did Kobe back up his statement? Kinda? Sorta? Ariza and the Rockets didn't need any help and the Lakers were down 15 at halftime, which is right around the time the Jazz seemingly lost their will to compete. Twenty-three of Bryant's 60 points came in the fourth quarter when he hoisted 15 of his 50 shots – the most field goals attempted in 33 years.
We can never know how Jazz-Lakers would have unfolded if Utah had any real motivation to win the game. Alas, Ariza has given us more Kobe content, so really, the big winner in all this is us.