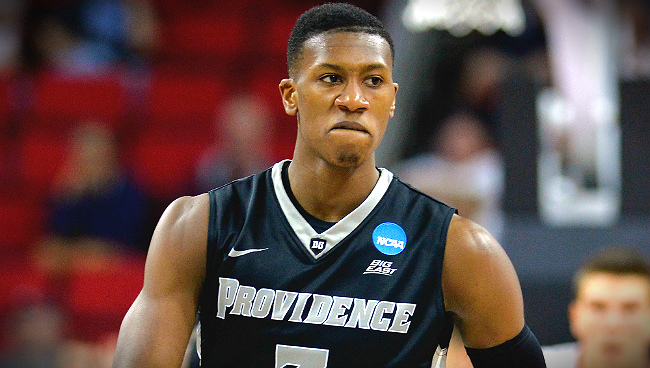 RALEIGH, N.C. – The play was for him. It was always going to be for him. The crowd knew it. The opposing team knew it. He knew it. When you're an All-American, and the player of the year in your conference, and a potential lottery pick, that's what happens.
Except that when the play was called, everyone forgot about the other guy. The third option on the play. The one who set a screen for the All-American, and slipped underneath two defenders, and suddenly found himself all alone under the hoop. Five seconds later, the celebration began, the team collectively hugged the unlikely hero, and the star walked toward the sideline by himself, pointed to the fans, and allowed himself to sigh.
He'd have at least one more game in college, and one more chance to show how special a player he really is.
"I'm sitting on this podium because of Kris Dunn," Providence coach Ed Cooley said Thursday night after the Friars' last-second 70-69 win over USC, the team's first NCAA Tournament victory since 1997. "Make no doubt about it, he's been the face of our program the last two years."
The Big East Player of the Year didn't have his best game statistically against the Trojans. He got into foul trouble early and sat much of the first half. His drives weren't resulting in finishes, as he shot just 1-of-8 inside the arc (although he was 4-of-5 on three-pointers). At times, he seemed a bit frustrated, and the zone that USC coach Andy Enfield threw at him in the second half left Providence a bit confused and disjointed.
Late in the game he took a puzzling jumper left of the key early in the shot clock that he left short, and the memorable inbounds play wouldn't have been possible if Dunn's missed jumper with six seconds to play hadn't rattled off a USC defender's hands. But Dunn's most consistent ability – and the one that will serve him best at the next level – is in the way he still manages to affect the game even when he struggles.
This is a point guard with size and vision, who can body up on defense and make the extra pass when his shot isn't right. Multiple times throughout the game, Dunn would give a guy a seamless look and the shot would clang off the rim or get blocked down low. He never gets too frustrated, though, instead offering that same look – or a better one – the next opportunity he gets.
Dunn has a calming influence, and his teammates gravitate toward him. After he left the postgame press conference, he, Rodney Bullock (who made the game-winning layup), Ben Bentil, and Kyron Cartwright returned to the Providence locker room at PNC Arena. TV cameras flocked to Bullock and reporters asked him in every way imaginable to run them through the play. Dunn quietly walked to the back, and a group of Friars all surrounded him and started yelling and laughing.
Kris Dunn isn't just an alpha dog. He also has an incredibly loyal pack.
To know his true impact, you have to watch Providence when he's not on the floor. There's no flow to the offense, people stand around, look at each other for answers, and generally lack the energy they have when he's out there. Dunn isn't just a facilitator, he's the answer to a question the rest of the team can't quite figure out on its own. This isn't a detriment to the players on the floor, many of whom are gifted and talented in their own right – just look to Bentil and Bullock for that – but more an illustration of why the senior from New London, Connecticut is widely considered one of the best players in college basketball, and a consensus top 10 pick in 2016 mock drafts.
Much of that perspective can be traced to other times when Dunn wasn't on the floor. Shoulder surgery in his sophomore season forced him to miss all but four games, and he instead watched what Bryce Cotton did to run the team.
"[Kris] said the best thing that ever happened to him was that he got hurt and he could watch Bryce Cotton," Drew Edwards, who was responsible for the inbound pass on Bullock's game-winning layup, said after the game. "He was alright. So, that's the best thing that happened to him. He could watch [Bryce] on the court, how he moved, how he played."
Edwards is constantly looking to his senior leader for advice and tips. Whether it's being told to keep defenders on his hip, or stressing the important of handles, Dunn offers help willingly to the freshman.
And it's not hard to see how much Edwards values that insight, or how much esteem he has for his mentor.
"That's part of his personality," Edwards said. "He wants the whole team to shine. Once he gets his, he wants everybody to feed off of him and get theirs. He's a family guy. He's a teammate. He looks for everybody first. He could beat his guy every single play, but he likes to get people involved, and that's just what a lot of people see in him. Especially with the scouts and everything, he doesn't just look for himself, and that's just the type of player he is."
Dunn will get another shot to get his, and impress the scouts in the process, on Saturday night against a No. 1 seed in North Carolina. And the Tar Heels are not taking that challenge lightly. They know how dangerous Dunn is, and that type of singular talent that doesn't come around all that often.
"He's had a great career," North Carolina guard Marcus Paige said following the team's win over Florida Gulf Coast on Thursday. "Especially these past two years. He's a triple-double threat kind of guy. He's going to be a first round pick, and I'm happy for the way he's played. He presents a problem because he's so good defensively, and he does so many things well that he can almost dominate and control the outcome of a game by himself. Even if he's not scoring 30 points."