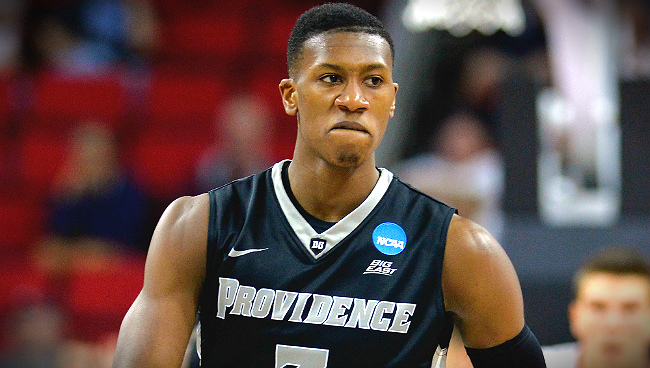 RALEIGH, N.C. – The play was for him. It was always going to be for him. The crowd knew it. The opposing team knew it. He knew it. When you're an All-American, and the player of the year in your conference, and a potential lottery pick, that's what happens.
Except that when the play was called, everyone forgot about the other guy. The third option on the play. The one who set a screen for the All-American, and slipped underneath two defenders, and suddenly found himself all alone under the hoop. Five seconds later, the celebration began, the team collectively hugged the unlikely hero, and the star walked toward the sideline by himself, pointed to the fans, and allowed himself to sigh.
He'd have at least one more game in college, and one more chance to show how special a player he really is.
"I'm sitting on this podium because of Kris Dunn," Providence coach Ed Cooley said Thursday night after the Friars' last-second 70-69 win over USC, the team's first NCAA Tournament victory since 1997. "Make no doubt about it, he's been the face of our program the last two years."
The Big East Player of the Year didn't have his best game statistically against the Trojans. He got into foul trouble early and sat much of the first half. His drives weren't resulting in finishes, as he shot just 1-of-8 inside the arc (although he was 4-of-5 on three-pointers). At times, he seemed a bit frustrated, and the zone that USC coach Andy Enfield threw at him in the second half left Providence a bit confused and disjointed.
Late in the game he took a puzzling jumper left of the key early in the shot clock that he left short, and the memorable inbounds play wouldn't have been possible if Dunn's missed jumper with six seconds to play hadn't rattled off a USC defender's hands. But Dunn's most consistent ability – and the one that will serve him best at the next level – is in the way he still manages to affect the game even when he struggles.