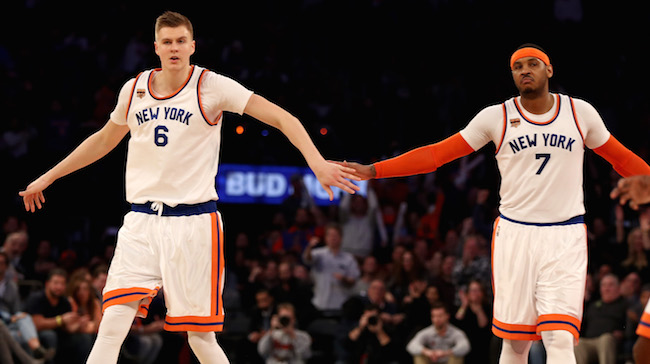 Carmelo Anthony has probably played his final game as a member of the New York Knicks. For six and a half seasons, Anthony has been the star in New York and, while the team success hasn't been what most Knicks fans hoped it would be, he was legitimately one of the league's best offensive threats for some of those years.
Now, Anthony is ready to move on after the Knicks (mainly the since departed Phil Jackson) dragged him through the mud for the past year-plus in an effort to get him to waive his no-trade clause. Anthony has only one team on his mind with regards to waiving that clause, per reports, and that team is the Rockets where he can join forces with good friend Chris Paul and James Harden. The Cavaliers, who suddenly are in need of a trade partner for Kyrie Irving, have reportedly been removed from Anthony's list of desired destinations due to their instability.
So, at some point, Anthony will likely be dealt to the Rockets thus turning over the Knicks' kingdom to 22-year-old Kristaps Porzingis. Porzingis will enter his third season as the biggest star in the biggest media market in the NBA, and he's doing everything he can this summer to prepare for that challenge — including watching Conor McGregor trash talk videos to build up his mental toughness.

While he's preparing to be the man in New York, he'd prefer it if Anthony stuck around a little while longer. As Porzingis told NBA.com's Shaun Powell, he's learned a lot from Anthony but thinks there's still lots more he has to learn from the veteran star and he would love if Anthony was back alongside him next season.
"He's an All-Star, an incredible player and I've learned so much from him," Porzingis said. "There's still so much for me to learn from him. I would love to have him around and keep playing alongside him. But it is what it is. It's a business. If it ends, well … I don't know, it's out of my hands. I'm really thankful for these couple of years I've been with him, just seeing how he works during the summer. It proves he wants to win and he wants to be great. I'm sure he'll make the right decision for himself."
Porzingis clearly understands that the reality of the situation is that Anthony is likely gone, but he's clearly valued his time with Anthony and what he's learned in the two years he's played with Carmelo. The Knicks rebuild will likely begin in full in 2017-18 once Anthony is dealt, as they look to put young assets around Porzingis starting with first round pick Frank Ntilikina at point guard. Porzingis will be thrust into the leadership and starring role, and the Knicks will hope two years of tutelage under Anthony has been enough.