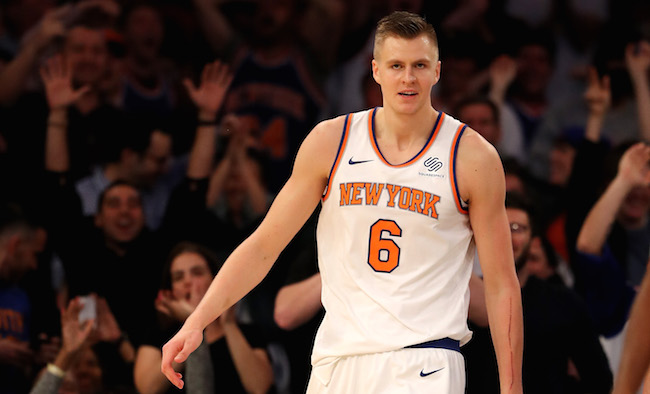 Kristaps Porzingis sat out Wednesday night's game against the Magic, as the Knicks' young star was dealing with a pair of injuries and just wasn't able to go on a back-to-back.
Porzingis was listed out with right elbow bursitis and a sprained left ankle. The latter injury occurred on his final drive of the game against the Hornets on Tuesday night, while the former is a nagging injury and one that's more concerning for the Knicks' superstar.
As Porzingis told reporters on Wednesday night, the elbow injury is something he's been dealing with for some time, and it's just a matter of pain management and keeping swelling down. Elbow bursitis can cause pretty severe swelling when it flares up after a hard hit and causes discomfort and difficulty in movement. The most memorable recent example of an athlete dealing with elbow bursitis was Blake Griffin, who, at times, looked like he had a softball under his skin.
The injury isn't something that should keep him out an extended period of time, but this offseason Porzingis is considering doing something procedurally to try and fix it moving forward as he told reporters.
(via the New York Post)
"When I hit it again it just swells up and it's sensitive and I can't stretch my arm,'' Porzingis said of his ballooning elbow. "It bothers me a little bit but not that bad. It's always, I have to get the swelling down and then I'll be fine again. But I think once the season's over. I might have to do something about it. I just can't keep going like this every year."

Porzingis said he could "drain it" or "do some stuff with it."
Porzingis expects to be back in the lineup on Saturday night, and hopefully he can manage his elbow issue until the end of the season because he's off to one of the hottest starts of any player in the NBA, averaging 30 points per game through 10 games this season. The Latvian forward has made the Knicks fun to watch for the first time in years and does incredible things on a nightly basis.
Knicks fans will be understandably concerned about his long-term health, but it will hopefully be something that can be taken care of this summer and not linger any further as he continues on as one of the NBA's top superstars.