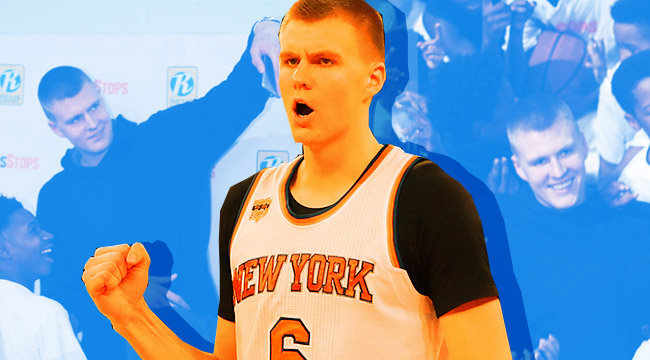 On 144th and Lennox, in Harlem, a room full of anxious kids fooled around on the basketball court at Abyssinian Baptist Church. The influence of Michael Jordan was profound. Not a single shot went up, it seemed, without MJ's trademark expression: mouth agape, tongue out. More than few step-back jumpers flew, many from kids who could barely hit the rim with their shots. Call it the Stephen Curry effect. It was hardly anything out of the ordinary.
What happened next was a sublime moment of dissonance. In walked an impossibly tall, slender 21-year-old Latvian clad in black sweats. Suddenly he was surfing a sea of screaming faces. Kristaps Porzingis stuck out in the crowd, not just because he's a legitimate 7'3, but because he was one of the only white faces in the crowd (at least among those who weren't there to cover the event).
Forget the election, or abstract notions of globalism or intersectionality, or the language barrier. Kristaps' English is nearly devoid of any discernible accent. Porzingis spoke the only language that mattered in that room: basketball. Someone handed him a basketball about 8 feet from the basket and amid a sea of screaming fans, Porzingis drew the back iron much to the delight of the crowd.
"It was pretty crazy," Porzingis said after. "I felt like a rockstar, all those kids around me. I felt the love. I felt that I was the idol and someone they look up to."
Nearly nine miles from Madison Square Garden, in a sweaty, cramped community gym, Porzingis took the next critical step – and it's a big one when you're seven feet tall — to becoming the face of New York sports.
Phil Jackson brought in Joakim Noah and Derrick Rose to make the Knicks a legitimate playoff team, and Carmelo Anthony remains the unquestioned alpha dog, but none of that should distract from the truth: the future of the Knicks is in the estimable hands of its sophomore big man.
Porzingis was in Harlem to announce a charitable partnership called "KrisStops" in which he'll donate $500 for every block he gets the rest of the season. According to a release, 100 percent of that money will go to RENS, a local youth basketball program, which will put it in the Ben Jobe Educational Scholarship Fund. Jobe is a long-time Knicks scout who remains active with the team at age 83.
Porzingis sees it as a necessary step for him in his evolution both as a player and a leader. Tying himself to the community is a way of putting skin in the game.
"This is something that I think that needs to be done that can affect a lot of kids," Porzingis says. "But always number one for me is I've got to perform on the court first of all. If I'm doing what I need to do on the court, then I can put my mind to things like that and help other people."
There's no question that the symbolic nature of the event – in a part of New York City known both for its struggles with poverty and its urban renewal programs – was not lost on Porzingis.
"[Basketball] is a way to get out of the life that you have," he adds. "That was the best hour, hour and a half of my day, just playing with my friends. That's a way to escape from your normal life."
In this case, the escape is very real. Tutoring and SAT prep for kids who might not otherwise get it could be the difference between going to a four-year college and a trade school. Ordifference between qualifying academically for a scholarship, and going to junior college.
Porzingis has been a child prodigy, going to professional basketball training with his brother when he was just 12 years old. Not everyone has that luxury. The cynical view is that all big-time athletes now do photo ops like this one. They understand the public relations view of it. So do the Knicks and the people who manage Porzingis. But if you're a Knicks fan, hoping to once again be relevant in the NBA landscape, perhaps you close your eyes to that notion.
As a rookie, Porzingis captivated fans at MSG and across the internet, fearlessly chasing blocks at the rim. He was internet sensation practically overnight and the legions of hopelessly loyal Knick supporters, the Spike Lee's of the world, finally had a reason to believe their taking the long view would pay off.
And this moment couldn't be better for him, coming off his best game as an NBA player and a five-game stretch where he's been averaging 23 points and 8 rebounds, shooting over 50 percent from the floor.
For now, Porzingis understands his role as secondary scorer.
"Without Melo it would be so much more difficult [for me] to get 30 points, or whatever. People don't realize that," he said after Sunday's win against the Atlanta Hawks. "He draws a lot of attention. He's the main focus for the other team. That opens stuff for me. Without him it would be much more difficult. I'm happy to have aggressive guys like him and [Derrick] Rose so I can get those open looks."
The Knicks may have overspent on free agents this offseason, but the arrival of big-name veterans takes the pressure of their budding superstar. See open shot, take open shot. Make open shot.
There's no rushing #theprocess.
For all of the things the Knicks have botched for the last (insert embarrassing number) years, the development of Porzingis has been pitch perfect. His usage rate is nearly identical through 10 games this year as it was his rookie season, yet this true shooting percentage has gone from under 52 percent to a robust 60 percent. His PER is up from 17.7 to 21.95, ahead of superstars like Paul George, Dwyane Wade, and ahem, Carmelo Anthony.
There's been griping about the triangle and Porzingis still should be playing more of the 5 with Melo at the 4. Joakim Noah looks broken down and Derrick Rose is what he is at this point. Maybe the Knicks make the playoffs. Maybe they don't. But none of those things should distract from the leap Porzingis appears to have made: a 20 points-per-game scoring stretch big man who can also protect the rim. He's the ideal big man in the current on-court style of the NBA. He makes a highlight reel play two or three times a week, and he's tackled the task of acculturating in New York City, media landscape and all, in a way that would make Lady Liberty proud.
Give me your tired, your poor, your huddled masses. And those are the just the people who have to guard a 7-footer who can shoot it from anywhere and isn't afraid to put you on a poster or smash your shot at the rim.
The playgrounds and gyms in Harlem are famously among the most competitive in the world and the ultimate meritocracy: the ball don't lie. Either you can play or you can't. Hoop and be accepted, or fail and be mocked. There's no better place for Kristaps Porzingis to prove he belongs.
---
Peter Bukowski is a reporter and sportscaster living in New York. He hates your favorite team and makes dumb jokes on Twitter.