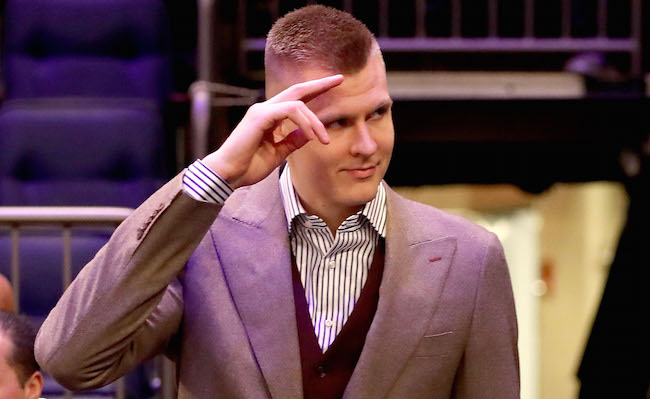 It's been a little more than a year since Kristaps Porzingis has played in an NBA basketball game. In February of 2018, he tore his ACL in his left knee and has been sidelined ever since.
A lot has happened since Porzingis went down. Namely, the Knicks shocked the NBA world at the trade deadline last month and sent him to Dallas in exchange for Dennis Smith Jr., Wesley Matthews, and DeAndre Jordan. Porzingis, who is just 23, will now team up with rookie sensation Luka Doncic on a Mavericks teams that has its sights set squarely on the future.
But all of that will have to wait until next season. Porzingis — together with his brother and personal physicians — put a recovery plan in place that will keep him out the rest of this season, despite being healthy and ready to return to the basketball court. Porzingis is on board with that tract, but the reality of sitting out game after game is starting to take its toll.
Via Tim MacMahon of ESPN:
"Oh my god, that's the hardest thing for me to wake up on game days, go through shootaround with the team and then have to pick a suit to wear for the game," Porzingis told ESPN in his first sit-down interview since the New York Knicks traded him to Dallas in early February. "I'm like, 'I don't want to do this anymore.' It's the toughest thing for me. I hate my suits. Not that I hate the suits, but I hate picking them for the game day.

"It's so weird that I'm not able to — I am able to, but I'm not playing yet. It's the game day, and I feel like it's the game day, but you just pick a suit and you wear it and you're there. And I try to be in the moment when I'm there with the team and help as much as I can without being able to be on the floor, but it's very, very, very tough. Tougher than I expected."
Though the Mavs reportedly weren't on Porzingis' short list of preferred trade destinations, it appears the 7'3 center is open to the possibility of remaining in Dallas long-term. That's in no small measure because of his excitement to play alongside Doncic.
With the Mavs headed for the lottery once again this season, yet another high draft pick could continue to set them up nicely for a return to relevancy with a young and talented core that is ready-made for the modern NBA. Hopefully next season Porzingis' suits get to stay in the closet on game days all season.
(ESPN)