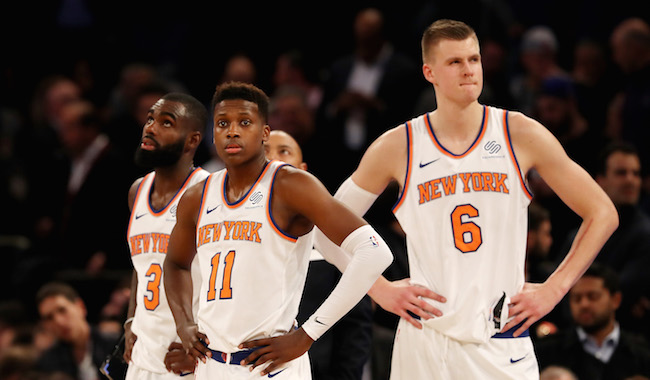 The Knicks have been a surprisingly solid squad through 23 games of the 2017-18 season, posting an 11-12 record and looking like a team a bit more ahead of schedule in their rebuild than many anticipated.
Kristaps Porzingis is the star of the Knicks and is the key reason for their strong start, averaging 25.8 points and 6.8 rebounds per game so far. Porzingis has missed the last two games for New York after leaving early in their contest against the Heat last week with a scary looking ankle injury, but on Wednesday, the star will be back in the lineup against the Grizzlies.

While Porzingis' return is great news for the Knicks, Tuesday's injury report wasn't all positive. The Knicks announced their top free agent signing from this summer, Tim Hardaway Jr., would be put on the shelf for at least two weeks with a stress injury to his lower left leg.
Hardaway Jr.'s $71 million contract was widely criticized, but the shooting guard has impressed in his return to New York. While maybe not playing to that contract figure, his 17.8 points, 4.4 rebounds, and 3.3. assists per game have been more than solid as the Knicks' clear No. 2 option. Damyean Dotson, who has been starting in Hardaway's place the past two games, figures to continue to play in his stead, but without Hardaway, New York certainly is lacking in offensive weapons around Porzingis.
If Porzingis is fully healthy and recovered from his ankle sprain, it could mean we see some incredible individual performances out of him as he's forced to carry the load offensively for the Knicks. We also might see even more Michael Beasley from New York, so while this injury certainly hurts the Knicks, it won't necessarily make them less fun to watch.