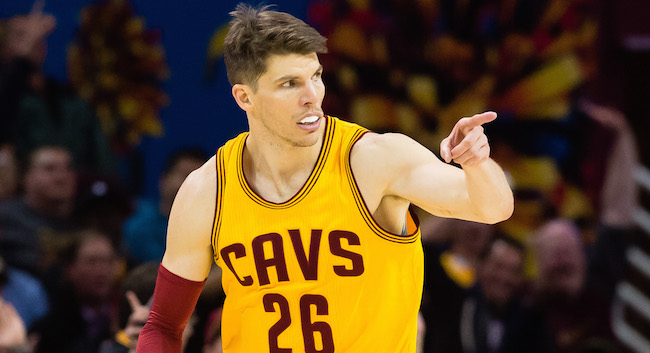 The Cavaliers entered NBA free agency without much in the way of room to add to their roster in free agency. However, with the rest of the Eastern Conference (which Cleveland rolled through with ease last postseason) failing to take strides to get better so far in free agency, if not actively getting worse, the Cavs remain the heavy favorite to win the conference next season.
Because they seem destined for another meeting with the Golden State Warriors in the NBA Finals next year, despite failing to make a splash on the trade market, the Cavs' focus has been on retaining their top assets from the current roster. The biggest piece they had to take care of this summer was sharpshooter Kyle Korver, acquired mid-season last year from the Hawks, and on Sunday, Korver and the Cavs agreed to a 3-year, $22 million deal to keep him in Cleveland.
At under $8 million per year, Korver comes at a relatively reasonable price for the spacing he provides off of the bench for Cleveland, but, as a luxury tax repeater, his cost is significantly more than $8 million in 2017-18 for Cleveland, according to ESPN's Bobby Marks.
Adding Korver's salary more than doubles the Cavaliers' tax bill to over $40 million. Cavs owner Dan Gilbert is clearly trying to send a message to LeBron James that he will continue to spend as needed to make Cleveland a contender as James faces free agency in a year, with genuine concern that he'll walk away next summer.
We'll see if Gilbert going deeper in the tax this season for Korver (and others, as the Cavs only have 10 guaranteed contracts on the roster currently) is enough to convince James to stay. The problem for Gilbert and Cleveland right now is that they can't improve the roster without a trade – minimum deals and exceptions aside – which likely won't be enough to catch the Warriors.