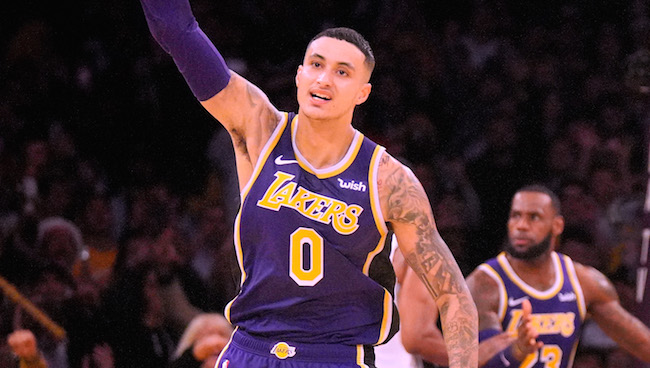 The Lakers picked up their second straight win to improve to 3-5 during this stretch without LeBron James as he battles a groin injury with a 113-100 drubbing of the Pistons in L.A.
Without LeBron, the Lakers have unsurprisingly looked like a team trying to find its way and also trying to find someone to take the primary scorer's role. On Wednesday, Kyle Kuzma took on that role in a big way as he led the Lakers with 41 points and two rebounds, and managed to post that new career high in scoring without even playing in the fourth quarter.
Kuzma had 19 in the first half, leading the Lakers to a healthy eight-point advantage at the break, and then blew the game open with a 7-0 run on his own early the third quarter, finishing with 22 in the frame and was able to rest the entire fourth while the Lakers held the Pistons to a double-digit deficit throughout.

In his post-game interview with ESPN, Kuzma said he felt the key to his night was finding his jump shot, noting he's struggled with it all season. It's safe to say that, for at least one night, he was in rhythm with that shooting stroke as he went 16-of-24 from the field and 5-of-10 from three-point range.
The Lakers will know later this week what LeBron James' status will be going forward, or at the least get a timetable for his hopeful return. Until then, having Kuzma back healthy is huge, particularly if he can be this kind of efficient scorer — even if not putting up 40 every night.