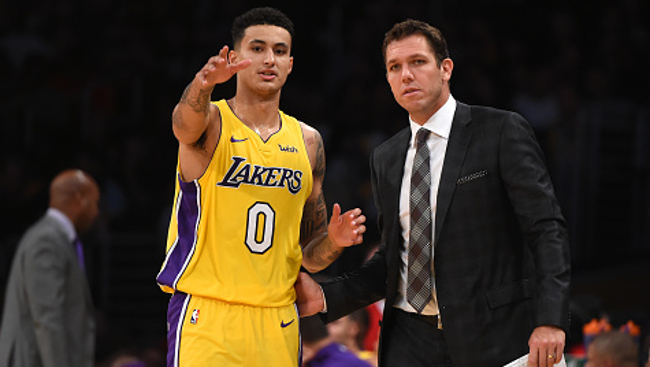 The Los Angeles Lakers have grabbed all the headlines this offseason. This is for a few reasons: They've brought in a whole bunch of veterans whose fits have been questioned, their players who contributed last season are all extremely young, and oh by the way, they added the best basketball player in the world in free agency.
This kind of media circus is what you expect out of the Lakers when they make big moves, and it's what you expect when a team adds LeBron James. But one thing that has popped up that you usually don't associate with a high-profile Laker squad or James has been the skepticism about what this team an accomplish.
Between roster construction and a stacked Western Conference, questions are abound about just how good this Los Angeles side actually is. For Kyle Kuzma, these questions are a bit off-base, as the second-year forward told ESPN that he believes his team is being "underestimated."

"We are both definitely excited about the roster and the pieces that we have," Kuzma said. "And we think that a lot of people are underestimating us. It is definitely going to be fun playing with all these new guys.
"A lot of people say we got a lot of different people, a lot of new people," Kuzma continued. "But change can be a good thing. It is not necessarily always a bad thing. There's a lot of teams in the NBA that need to work on their chemistry; we are just one of them."
The good news for Kuzma and the Lakers is that the spotlight will be on them all year, so there will be plenty of chances early and often for them to prove while they deserved to be viewed as the NBA's elite. The bad news, however, is that the Western Conference is an absolute meat grinder, so it's totally possible that a good Los Angeles squad struggles and doesn't have a record that indicates the talent they believe on the roster.
Regardless, it's not often that you hear that a team with James on it is being underestimated. Perhaps that perception is the sort of thing that will help propel the Lakers to a successful season, but at the very least, it seems like a near-certainty that they're going to be entertaining.
(Via ESPN)